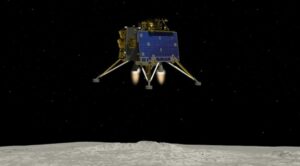 Edinburgh, 1 July 2022. – The Indian Space Research Organisation (ISRO) said the launch of the country's first manned space flight, the Gaganyaan mission, cannot happen until at least 2024 as the agency wants to ensure that all safety systems are in place. 
ISRO stated that tests were being conducted cautiously with regard to safety. The organisation emphasised that several demonstrations will take place along with an unmanned mission in the middle of next year.
Currently, ISRO is conducting tests on lander propulsion and lander systems. The legs of the lander have been made stronger and the organisation says now it wants to add new sensors to it as well.
In February, the Indian government announced its plans to launch its Chandrayaan-3 lunar lander mission this year onboard of a GSLV Mk 3 rocket. The Chandrayaan-3 mission follows India's first mission to land on the lunar south pole, Chandrayaan-2. However, Chandrayaan-2's lander, Vikram, crashed when it deviated from its intended trajectory during landing. Chandrayaan-3 will aim to explore the lunar south pole.