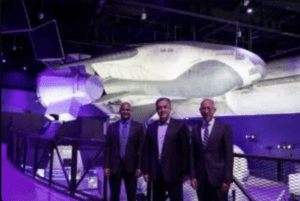 Edinburgh / Louisville, 1 July 2022. – Commercial space company, Sierra Space, the Turkish Space Agency and aerospace engineering solutions developer ESEN Sistem Entegrasyon (ESEN), signed a five-year Memorandum of Cooperation (MoC) to combine efforts on Sierra's low Earth orbit (LEO), lunar and astronaut programs, Sierra Space said.
According to the MoC, the three organisations will work jointly on space technologies and applications, including the Dream Chaser spaceplane and the LIFE (Large Integrated Flexible Environment) habitat. They will also collaborate on remote sensing, propulsion systems, crewed space system and space communications. The parties will cooperate on on-orbit space environment utilization as well as sending payloads to LEO and the Moon. Furthermore, the MoC allows for the engagement with and incubation of Turkish industry and academia in space-related business ventures.
Sierra Space secured US $1.4 billion in a Series A funding last year, led by General Atlantic, Coatue and Moore Strategic Ventures. The company uses the funding to expedite the development of its space transportation systems. These include Dream Chaser, in-space destinations for LEO commercialization, and advanced technologies and space applications, Sierra Space said.