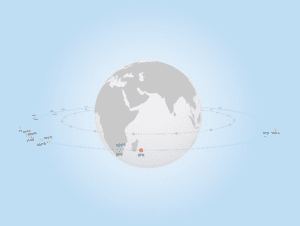 Edinburgh / Tampa, 30 March 2022. – Luxembourg-based satellite operator SES, ordered a software-defined geostationary satellite from Thales Alenia Space to extend its connectivity services across Europe, Asia and Africa, SES said.
SES-26 is the third and final satellite the company has ordered from Thales Alenia based on their three-satellite contract. It will carry a reprogrammable communications payload capable of adapting to changing mission needs while in orbit. The satellite will provide Ku-band and C-band frequencies from 57 degrees East, the company said. SES-26 is set to replace the firm's NSS-12 satellite launched in 2009.
The other two satellites under the contract are ASTRA 1Q, a software-defined satellite, and ASTRA 1P, a classic wide-beam spacecraft. Both are scheduled for launch in 2024 to 19.2 degrees East to replace four broadcast spacecraft.
SES will deploy a total of 14 satellites in the near future, of which seven already have their launch dates set. Five of these are GEO satellites in the C-band spectrum and nine are satellites for its medium Earth orbit O3b mPower constellation. SES-26 is expected to launch in 2024 or 2025.