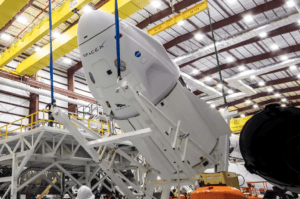 Edinburgh, 30 March 2022. – SpaceX is finishing the production of the fourth astronaut capsule and will not manufacture more to focus resources on its next-generation spaceship program, Starship, the company said. The decision reflects the firm's business model relying on reusable spacecraft.
Crew Dragon was initially developed for NASA's Commercial Crew Program to fly astronauts back and forth from the ISS. SpaceX has launched four crews to the space station under its NASA contract and also flew a fully private three-day mission. At least four more private astronaut missions are anticipated on board of the Crew Dragon capsule in cooperation with Axiom Space.
Having less capsules means that they have to maintain and fix the spacecraft more quickly not to hold up following missions. SpaceX will still manufacture parts necessary for refurbishments and it retains the capability to build more capsules if needed. The capsule's successor is going to be Starship, the company's Moon and Mars rocket whose debut has been delayed by the Federal Aviation Administration's review.
The capsules undergo refurbishment after each flight just like SpaceX's reusable rockets, Falcon 9 and Falcon Heavy. During refurbishment, the teams remove the components that are unfit to fly to space more than once and fix any issues.