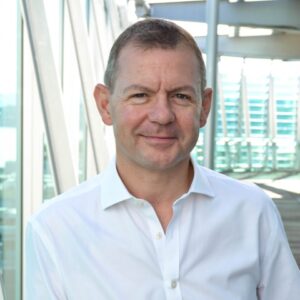 SpaceWatch.Global is pleased to present the 51st episode in our podcast series The Space Cafe Podcast #051: Steven Ramage, GEO, Earth observation. The big eye in the sky
Episode 051 features a special guest Steven Ramage.
Without earth observation technology, things would be very different down here on earth. The "big eye in the sky" promises huge benefits but also challenges. Steven Ramage talks space observation from many angles in this episode. The diplomat leads external relations at the Group on Earth Observations (GEO) Secretariat in Geneva, Switzerland. His role involves focusing on the interfaces between science, technology, policy and decisions in support of more than 100 UN Member States. He is on the Governing Boards of Digital Earth Africa and Digital Earth Pacific, a member of the UK Space Agency Earth Observations Advisory Committee and the Advisory Board of EO4GEO.
The Space Cafe Podcast brings our signature brand of engaging and relevant content from across the global space economy to you via an exciting new format. Together with award-winning Executive Producer, Markus Mooslechner (Terra Mater Factual Studios), our fortnightly podcast features highly interesting guests.
Each episode includes a review of important topics, as well as guest appearances and deep commentary from expert panellists from across the space sector.
Thanks to our global distribution partner, BookWire, the podcast is available on all major podcast platforms.