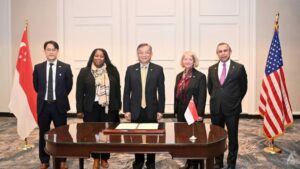 Edinburgh / Washington, 30 March 2022. – Trade and Industry Minister Gan Kim Yong signed the Artemis Accords on behalf of Singapore, making it the 18th nation and first Southeast Asian country to join the US-led agreement on space exploration. The Artemis Accords launched in 2020 with eight founding members.
The Accords got their name after NASA's Artemis Moon programme. They are a set of non-binding commitments based on the Outer Space Treaty (1967) aimed to promote the peaceful and sustainable use of space. The Accords include key principles related to space exploration, science and commerce. They emphasise the need for transparency, the open sharing of scientific data and the mitigation of orbital debris.
Singapore has recently established several centres focusing on space research and development. The government also expanded the mandate of the Office for Space Technology & Industry (OSTIn). There are currently over 50 space companies in the country ranging from design and manufacture to the provision of satellite-based services.