This Space Café Black Ops will feature Dr. Bleddyn Bowen, Lecturer in International Relations at the University of Leicester, in conversation with Dr. Emma Gatti, Space Analyst and Broadcaster and correspondent of SpaceWatch.Global for Italy.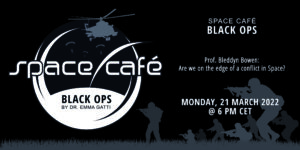 Ukraine Conflict: is an escalation in Space possible?
The Ukraine-Russia conflict and the rising tensions between US, Russia and NATO will have profound repercussions on the space sector. International collaborations, the ISS mission, satellite launches and scientific cooperation are all at risk. But does the conflict have the capacity to escalate into a full-blown space war? And which would be the consequences of such escalation?
Starting from the 11/2021 Russian ASAT attack we will piece together the evolution of the conflict under a Space warfare point of view. Together with Bleddyn Bowen, we will discuss the possible space war strategies that we might see deployed in the next few months, assess the possibility that the conflict could impact LEO assets, and reflect on what is at stake for the Space sector and the Earth geopolitical frame at large.
Dr. Bleddyn Bowen is a Lecturer in International Relations at the University of Leicester, in the UK. He is an expert in space warfare, space policy, and international relations in outer space, specialized in strategic theory and military thought. He is author of the book War in Space: Strategy, Spacepower, Geopolitics, published by Edinburgh University Press in 2020.
The audience will have an opportunity to ask questions.
SpaceWatch.Global is a Europe-based digital magazine and portal for those interested in space and the far-reaching impact of the space sector.
This Space Café "Black Ops by Dr. Emma Gatti" will be conducted in English on 21 March 2022 at 6 pm CET.