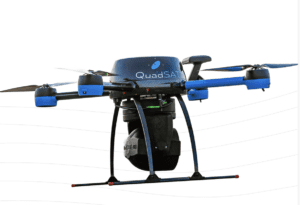 Edinburgh / Odense, 31 March 2022. – QuadSAT has worked alongside teams from the ESA's ESOC mission control centre to complete a measurement campaign of large antennas at Kiruna Earth Station, QuadSAT said. This was the first time that a drone-based system, QuadSAT UAS, was used to measure a 15-metre antenna along with performing tracking tests with it.
QuadSAT's system for the test and verification of radio frequency equipment has been supported and part-funded by ESA through the Agency's ARTES program. The latest campaign involved testing KIR-1, a 15 m antenna, and KIR-2, a 13 m antenna. Using the drone-based system meant that no satellite tracking or fixed RF (radio frequency) beacons were needed. 
Measurements were taken in X-band and circular polarisation at a distance of about 10 km from the antennas, the company said. QuadSAT's system has a customised payload integrated with an unmanned aircraft system (UAS). Raster scans delivering a full azimuth-over-elevation view were performed to test the antennas' performance. Raster scans ensure that there is no impact from reflections in the landscape, water or surrounding buildings.