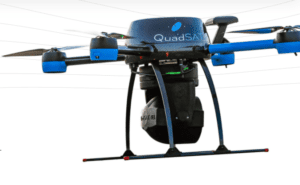 Edinburgh, 22 September 2021. – OneWeb is working with QuadSat to verify its ground segment antennas before the global rollout of its LEO constellation, QuadSat announced. As an initial stage, QuadSat has implemented an antenna validation campaign at the Italian Telespazio port.
The Danish company carried out in-situ measurement generating antenna radiation patterns and aligned the pointing of the antennas using their drone payload. QuadSat measured radiation patterns of several OneWeb antennas, thus validating feed alignment and the direction of pointing, the company said.
Following the initial phase, QuadSat will continue antenna verification at other OneWeb sites. The drone-based system enables flexible and accurate antenna testing and calibration. Antennas can be tested anytime and anywhere this way, against a broad range of requirements. The pre- and post-flight software ensures repeatability, control over the drone, simple operation and data delivery as well.