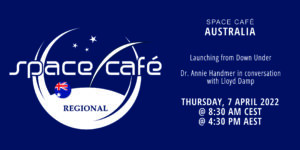 Space Cafe Australia: Launching from Down Under.
Join Lloyd Damp and our host Dr. Annie Handmer for a conversation on space and government.
In this upcoming edition of Space Café, we invite you to join host Annie Handmer and her guest Lloyd Damp, CEO of Southern Launch, for a relaxed conversation about Australia's role in space exploration. Lloyd founded Southern Launch in 2017, keen to take advantage of a fast-growing space industry and create infrastructure to support and enable Australian space launches. In late 2021, Southern Launch conducted several rocket tests at Whalers Way in South Australia, and intends to continue testing in 2022. The company also develops software to promote launch range safety and provides engineering consulting for launch activities and technologies. During the discussion, we will talk about the launch industry as a whole: who is launching what, and why? Why is Australia such a useful launch location? We will also delve into how the process of testing is not only resulting in valuable insights for technological development, but is also driving the maturation of Australia's space laws and regulatory frameworks. Finally, Space Café Australia is an opportunity to get to know Lloyd on a more personal level. What drives his interest in space, and what challenges and opportunities does he see on the horizon?
Lloyd is responsible for developing and delivering the strategy across the company. Lloyd brings with him a unique experience relating to the design and safe operation of rocket systems across a number of size classes. In 2006 Lloyd graduated with a degree in Space Engineering from the University of Sydney and holds a Masters in aero-structural optimisation, a Graduate Certificate in Applied Project Management and a Graduate Certificate in Scientific Leadership. In a career spanning over 12 years in Defence research, Lloyd has led teams to deliver leapfrog technologies across numerous technology fronts. In his spare time Lloyd has contributed towards eye research, been a surf lifesaver and represented Australia in Ironman 70.3. He is married with two daughters who are dreaming of one day becoming astronauts.
Dr. Annie Handmer is a part-time Associate Lecturer with the School of History and Philosophy of Science at the University of Sydney. Her research traces the social history of Australian space science projects in order to better understand international and interdisciplinary cooperation, the social construction of achievement, and the nature of the military-industrial-academic complex in Australian space science. While studying for her PhD, Annie was also employed with the NSW Government in the Department of Premier and Cabinet and Treasury. Most recently, Annie worked with Shaping Futures, a policy foresight and futures intelligence function within central government. Annie is on the Advisory Council for the Space Industry Association of Australia and a member of the Space Generation Advisory Council 'Ethics and Human Rights in Space' Project Group. She is also a member of the Space Law Council of Australia and New Zealand, program consultant to the Australian Youth Aerospace Association ASTRA Committee, the host and creator of the 'Space Junk Podcast', and the host of SpaceWatch Global's 'Space Café Australia'. Annie consulted to Questacon on the development of their space exhibit for the Australian Space Discovery Centre and will be undertaking a residency at the Sydney Observatory in 2023.
SpaceWatch.Global is a Europe-based digital magazine and portal for those interested in space and the far-reaching impact of the space sector.
This Space Café Australia will be conducted in English on 7th April 2022 at 8:30 am CEST.
Reserve your place today.