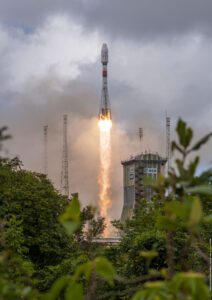 Edinburgh, 1 March 2022. – The Intergovernmental organisation, ESA, held a meeting with its 22 Member States to discuss future cooperation with Russia reflecting European values.
A statement issued by the agency yesterday says that ESA fully implements the sanctions imposed on Russia by its Member States. The agency is assessing the consequences of this decision with regards to all the ongoing programmes involving Roscosmos. ESA's aligning decisions to its industrial and international partners such as NASA as well.
The statement also reflects on Roscosmos' decision to withdraw the Soyuz launch campaign and its workforce from Europe's Spaceport in Kourou. It states that the agency will assess what alternative launch services they can offer for each European institutional payload. ESA will base this process on currently operational launch systems and the upcoming Vega C and Ariane 6 launchers.
According to the statement, the ExoMars programme is most likely not going to be able to launch this year. However, no final decision has been made yet, ESA's Director General will analyse all options and announce the verdict later.
ESA will continue to monitor the situation "in close contact with its Members States."