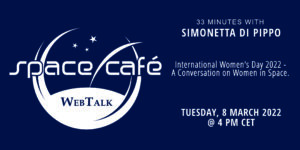 This Space Café WebTalk will feature Simonetta Di Pippo, Director of the United Nations Office for Outer Space Affairs, in conversation with Torsten Kriening, publisher of SpaceWatch.Global.
International Women's Day 2022 – A Conversation on Women in Space.
UNOOSA Director, Simonetta Di Pippo, maintains responsibility for the Office's management and administration, provides strategic guidance to its work and ensures that it is implemented in accordance with the mandates of the General Assembly, COPUOS, and the established policies of the UN. She develops the work programme of the Office and ensures the Office's efficiency, transparency and accountability. The Director also manages the peaceful uses of outer space programme.
Simonetta serves as the senior advisor to the Secretary-General and represents the SG at meetings and conferences on matters relating to the peaceful exploration and use of outer space. She also discharges the Secretary-General's obligations under the UN treaties and principles on outer space. Alongside the team in the Office of the Director, Ms. Di Pippo oversees and coordinates the strategic direction and operational priorities of the Office, including the preparation, monitoring and implementation of the work plan, budget and the strategic framework of the Office.
In this webtalk, on international women's day 2022, we will discuss the topic of women in space and STEM. In her career, Simonetta Di Pippo has been active in bridging the gender gap in STEM and the space sector. In 2009, she co-founded Women in Aerospace Europe and in 2017, she became a UN International Gender Champion.
The audience will have an opportunity to ask questions in dialogue with Simonetta Di Pippo.
SpaceWatch.Global is a Europe-based digital magazine and portal for those interested in space and the far-reaching impact of the space sector.
This Space Café WebTalk will be conducted in English on 8 March 2022 at 4 pm CET.
Reserve your place today.