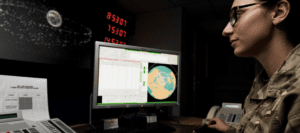 Edinburgh, 2 February 2022. – The UK government announced it will invest approximately £1.4 billion to reinforce their national interests in space, as part of the first Defence Space Strategy (DSS). The DSS outlines the methods of protecting the UK's national interests in space, stimulating growth of the sector and supporting highly skilled jobs.
Over the next ten years £968 million will be allocated for a multi-satellite system, known as the Istari Programme, the government said. This will support global surveillance and intelligence for military purposes. A further £61 million will be invested in laser communications technology for delivering data from space to Earth.
The financing is additional to the £5 billion spent on upgrading the Skynet satellite communications system for the UK Armed Forces and allies. Supporting programmes will also launch as part of the DSS to provide technologies for intelligence, surveillance, and Command and Control. 
These include Minerva and Prometheus 2. Minerva, a network of satellites designed to integrate space with land, air, sea and cyber, will mean an additional £127 million. Prometheus 2 comprises two small satellites, providing a test platform for monitoring through GPS, radio signals and sophisticated imaging.
The UK Space Command, established in July 2021, will lead the country's defence space approach while driving integration and innovation.