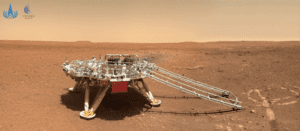 Edinburgh / Beijing, 2 February 2022. –  The State Council Information Office of China issued its fifth white paper, titled "China's Space Program: A 2021 Perspective," on the country's space program. The paper introduces China's principles, policies, measures, and mindset while also summarizing its achievements in space science, technology and application.
Major achievements include improvement in space infrastructure, the BeiDou Navigation Satellite System, and an Earth observation system. The country also improved satellite communications services and concluded the last step of the three-step lunar exploration program. They also finished the first stages of building the Chinese space station and landed Tianwen-1 on Mars.
The key areas China will focus on include space transport, manned spaceflight, deep space exploration, launch sites, tracking and command. The country will also explore the Moon's polar regions and might even land astronauts on the lunar surface. Improvement of space debris monitoring, a near-Earth object defense system and a climate monitoring system are planned as well.
China will continue the research and development of gravitational wave detection satellites, the Einstein probe, and the space-based solar observatory. The country also calls for international cooperation in astronaut selection and training, joint flights and other outer space activities.