by Blaine Curcio and Jean Deville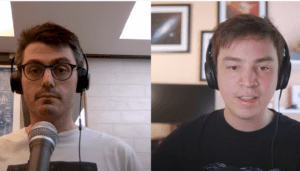 As part of the partnership between SpaceWatch.Global and Orbital Gateway Consulting we have been granted permission to publish selected articles and texts. We are pleased to present "Dongfang Hour China Aerospace News Roundup 31 May – 6 June 2021".
Hello and welcome to another episode of the Dongfang Hour China Aero/Space News Roundup! A special shout-out to our friends at GoTaikonauts!, and at SpaceWatch.Global, both excellent sources of space industry news. In particular, we suggest checking out GoTaikonauts! long-form China reporting, as well as the Space Cafe series from SpaceWatch.Global. Without further ado, the news update from the week of 7 June – 13 June 2021.
Good god, we have a doozy this week, we have all updates from all things. Some sick photos from Tianwen-1 take the 3 spot on this week's episode, with a couple of commercial launch updates, significant events from the National Team including a new CAS EO constellation and intriguing LM-2D launch, and finally, a Chinese version of O3b to round out the week. One story for each day of the week, starting with some news from iSpace on the Hyperbola-3.
1) iSpace unveils details on the Hyperbola-3, which is officially validated and moved to the R&D phase
Jean's Take

Chinese commercial launch company iSpace announced on June 7th that it had officially validated and completed the definition phase of its reusable medium-heavy lift rocket, the Hyperbola-3, and kicked off the R&D phase. This is an early stage yet important milestone for the Hyperbola 3 rocket, meaning several things:
It shows that the company is now ready to dedicate a significant part of its engineering resources to the design of a new rocket. This suggests the two first Hyperbola rockets are going well, and notably, the final tests for the Hyperbola 2, which is expected to perform some first hops this year, is on track.
It confirms once again iSpace as one of the leading Chinese commercial space It is probably one of the only commercial launch companies in China to have entered the R&D phase for a medium-heavy lift launch vehicle, possibly alongside Landspace (which has the ZQ-2A/B/C on the roadmap).
The Hyperbola rocket family today already consists of the Hyperbola 1 solid-fueled rocket (payload to LEO is 300 kg), the Hyperbola-2 reusable methalox rocket (payload to LEO is 1.9t) which is bound to launch for the first time this year. The Hyperbola 3 represent the upper end of the Hyperbola rocket family, providing different payload capacities thanks to 3 different configurations of the launch vehicle:
The basic SQX-3, which is a two-stage version putting 13.6t into LEO (when expendable) or 8.6t in a reusable version (and landing in an area determined by a ballistic trajectory).
The heavier SQX-3A, which a the SQX-3 but with an extra side booster, putting into LEO 26.1t (expendable)/12.9t (reusable). I must admit that this version is very odd, with a non-symmetrical design. This likely makes the stability of the rocket much more complex, and with a center a gravity deported towards the single booster. I think this is unprecedented in rocket design.
The heaviest SQX-3B, sort of a "Falcon Heavy" version of the SQX-3 with 2 side boosters. This rocket puts the 32.2t into LEO (expendable version) and 14.1t (when reused).
The inspiration that iSpace is getting from the Falcon 9 is evident: you have the same cluster architecture of the engines (9 Jiaodian-2 engines, for the first stage, a single Jiaodian-2 engine for the second stage) which is optimal for a vertical landing. There is also the addition of 2 first stages as side-boosters to form the "Falcon Heavy version". The Jiaodian-2 engine provides 85t of thrust at sea level, something that is comparable to the Merlin engine of the Falcon 9. The landing performed on a drone ship is also similar. It employs similar looking landing legs and grid fins.
There are some notable differences, however: the Jiaodian-2 is a methalox engine. Also in terms of payload capacity, the Falcon 9 puts 15t-ish into LEO (when reused), compared to 8.6t for the similar SQX-3. That's literally a 40% drop for a rocket that has the same number of engines, providing a similar amount of thrust, and with a similar rocket architecture!
I'm not sure what this gap is due to, possibly this shows that the many years of optimization of the Falcon 9 (materials, vertical landing, engine efficiency, chilling the propellants, etc) has made it much more effective.
iSpace plans to reuse the SQX-3 20 times, and has set the inaugural launch of "China's Falcon 9" for June 2024. Overall, a very cool update from iSpace, I believe the SQX-3 may be one of the real "Falcon-9"-like competitors outside of the US.
2) Emergence Dongfang Space ("Ospace"), yet another launch company
Blaine's Take
Last week, we received news that a stealthy launch company that goes by the name of Ospace (or 东方空间技术) had completed a angel round of funding of 400 million RMB (!). The lead investors of this round were Sequoia China and Matrix Partners China, two premier VCs that have invested in a number of space companies before. Matrix Partners China, for example, has highlighted major achievements in iSpace's progress in its company news. Other investors included Sany and the Tianfu Sanjiang Fund, with the former being a heavy machinery giant, and the latter seemingly a Chengdu Government-connected fund. It is complete speculation, but given the very large size of this initial round, and the extent to which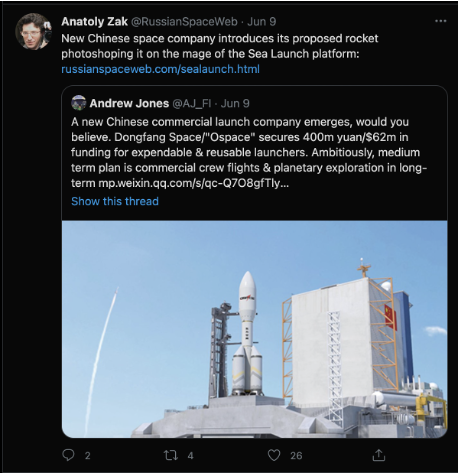 Ospace is "late in the game", as it were, there would likely be some government connection, whether it would be some implicit government demand for the company's future rocket, or otherwise significant government assistance on the fundraising side. Ultimately, not yet clear, but yet another Chinese launch company to cover.
The company vaguely mentions that it is developing the "Gravity" series of launch vehicles, which includes expendable and reusable rockets. While no further detail is given, it is interesting to note that the article header image is an artistic rendering of a sea launch base, with some resemblance to the former Sea Launch company. This also led to some speculation that there was photoshopping involved, including by Russian space industry expert (and recommended Twitter follow for space fans), Anatoly Zak. For those who are interested in more info on Sea Launch, there's a great breakdown from Zak here.
Looking up Chinese corporate databases, it seems that Ospace was founded in September 2020 (the company is barely 9 months old!). It has been hiring aggressively in recent months, with an announcement in March mentioning twenty-four job openings related to thermal control, attitude control, guiding, FPGA, simulation software, electronics, and separation systems. Ultimately, they are indeed a late comer to a very crowded race, but with a plethora of blue-chip investors in a huge early round, they may have a chance. Last point from my side–interesting to note that the company is HQed in Yantai, Shandong Province. The location on China's eastern seaboard is convenient. The Port of Yantai is quite huge, and it would be a relatively short journey to Ningbo (that said, there have been increasing rumblings of a commercial launch site in Shandong also, so we shall see!)
3) Additional Pictures from Tianwen-1 (orbiter shot of the lander)
Jean's Take
Finally, we get further images for China's Tianwen-1 mission this week! China's national space agency CNSA had been unusually quiet on the Tianwen-1 mission since it had sent back the first images from the rover on May 22nd: 3 unbearably long weeks during which many space fans around the planet ranted a bit about CNSA's secretive communication policy, while at the same time NASA's Perseverence rover was as talkative as ever.
But in the end, the wait was worthwhile, and we got 4 amazing high-res images this week which are worth taking time to comment:
First and foremost, there was a panoramic shot taken a couple days after the rover/lander had landed on Mars. It is actually composed of 12 images taken by the navigation cameras and stitched together, hence the super-high resolution (and image size: 22 mo!). The image shows some interesting details:

The very flat topology of Utopia Planitia, which is one of the reasons the area was selected by CNSA for China's first Mars mission.
There are also two clear marks on the ground which result from the lander passivation (meaning the evacuation of excess fuel which will not be useful).
You can also see in the distance the lander and the entry capsule which seem to be a significant distance away.

Next, we have a shot of the lander, taken by the rover's navigation cameras once again. On this image, some interesting things to note include:

The massive hole below the lander, linked to the blast of the main engine of the lander and which was used until the very last seconds.
Some symbols: you have the Chinese flag on the lander, as well as the Beijing Winter Olympics mascots (冰墩墩 and 雪容融), a bit harder to see.
Probably the hardest detail to see is the 中 which comes from a 中-shape stamp on the wheels and results in a print onto the ground. 中 means Zhong, or middle, which constitutes the word Zhongguo (or "China" in Chinese).

Finally, Zhurong released a miniature camera some distance away from the lander, and drove back into the field of view of the camera, enabling the shot of this incredible Mars selfie where you see both rover and lander. An amazing shot.
Further images of Zhurong also came from orbit this week: on June 7th we had the Tianwen-1 orbiter take two shots from its HiRIC camera, also very high res, where we can distinguish the rover.
NASA's Mars Reconnaissance Orbiter also captured a similar image, with some additional detail, on June 6th.
All in all, very cool Mars stuff, especially after 3 weeks with literally no information.
4) Shenzhen Publishes Support for Satellite Manufacturing
Blaine's Take
The Shenzhen Development and Reform Commission (province-level NDRC) published some policy support for the satellite manufacturing sector on Tuesday 8 June. The support involves some pretty big numbers, namely up to ¥300M (~$47M) for major equipment and key component development projects, up to ¥200M for a single satellite project, and up to ¥50M for launch insurance. I would first point out that the hundreds of millions of RMB seem to be only available for, again, "major equipment and key component development projects", of which the Shenzhen Government will make a list. That said, for most areas, there is a still-generous amount (tens of millions of RMB) for more general R&D.
This is interesting, in that there are clearly a few local companies/industries that will benefit. Starting with the most obscure, the ¥50M in insurance is good news for, among others, Ping'an Insurance. Ping'an is one of the largest insurers in China, and their Ping'an Financial Center is the tallest building in Shenzhen, and one of the tallest in the world (there's also a great Regus co-working space on the 85th floor).
Unrelated to real estate, however, Ping'an is also active in the space insurance industry, having been an active participant in the China High Tech Fair Aerospace Sub-Forum in 2018, 2019, and most probably 2020 (neither Jean nor I were there last year, so we cannot 100% verify). So, the city's subsidy for launch insurance is a nice win for the local insurance champion. The subsidies will also likely benefit existing local satellite manufacturers, namely Shenzhen Aerospace Dongfanghong and Zero Gravity Labs, as well as a few others with R&D centers in the city. Probably the biggest aim, however, would be to attract other space industry companies that are currently not in Shenzhen. This has been an interesting challenge, in the sense that Shenzhen is a young, vibrant, competitive city with many world-class companies HQed there (Tencent, Huawei, DJI, to name a few), but a limited space sector thus far. Efforts such as a graduate school campus from aerospace powerhouse Harbin Institute of Technology have helped to attract some aerospace/space industry talent, but the city space sector remains smaller than it could be. As such, maybe the new government policies will help bring in more companies. Just to round out the other benefits before handing it off to Jean for another Shenzhen-related piece of news:
Funding up to ¥10M/40% of project investment related to satellite applications (5G, IoT, big data, cloud computing, etc.), with up to ¥30M for "approved national key laboratories, national engineering research centers, and other national innovation centers". Lot of overlap here with companies like Huawei and Tencent, and they now get some extra money to research satellite cloud, for example.
Funding of up to ¥300M/40% of project investment related to satellite industrial base, i.e. projects that make key components that go into a satellite, or projects to integrate satellites themselves. Again, good news for satellite manufacturers.
Funding of up to ¥200M for GEO and ¥50M for LEO satellite infrastructure, including a "global high throughput broadband satellite communication system", and a "regional remote sensing constellation". The global HTS broadband system is clearly a direct reference to APT Mobile Satcom and their planned global HTS broadband system, and therefore a direct benefit to the company. As discussed in a recent article at our friends Global, APT Mobile Satcom also recently topped out its billion-dollar office tower, also in Shenzhen.
This only scratches the surface of the regulations, but holy cow we have a lot of news this week, and indeed, this was not even the only Shenzhen-related news that we had.
5) Shenzhen Angle of the Long March-2D Launch
Jean's Take
And related to Shenzhen's growing role in the space industry, we also saw this week a Long March-2D send 4 satellites into orbit from Taiyuan Launch, among which 2 were built by Shenzhen satellite manufacturer Shenzhen Dongfanghong, an subsidiary of China's main satellite manufacturer CAST. These satellites were:
Yangwang-1, which is developed for Shenzhen-based company Origin Space, a startup aiming to develop commercial space mining activities. The entire satellite is only 42 kg, and the main payload is a miniature telescope including a visible light camera and an ultraviolet camera. The satellite's main objective is to detect and observe near Earth objects. Interestingly, this launch comes 6 weeks-ish after the launch of the NEO-1, another Origin Space cubesat which aimed at experimenting the in-orbit capture of space debris.
Haisi-2: a nanosatellite codeveloped by Shenzhen Dongfanghong (leading the satellite hardware development) and Xiamen University (in charge of satellite data applications). Its main purpose is Earth observation, and it is equipped with a multispectral camera to gather data on water surfaces (shores, lakes, rivers, etc).
The other satellites launched was  the much larger Beijing-3 satellite, designed by Beijing Dongfanghong and based on the CAST3000E bus. It is destined to commercial remote sensing constellation operator 21AT, which already managed the Beijing-2 constellation composed of satellites by SSTL. The final satellite was called Tianjin-1, a in-orbit verification satellite testing satellite condition monitoring technology, among other things. The satellite was designed by the PLA-linked Space Engineering University and SAST Institute 805.
Back to the Haisi-2 satellite, I have a feeling that Xiamen University is really becoming quite active in space. It has been involved in the Haisi-2 remote sensing satellite, it was also involved in suborbital flights with the launch startup Space Transportation, and I think that it doesn't stop there…
6) CAS Xi'an to Launch Xiamen-1 Satellite
Blaine's Take
-Xiamen to launch a 120kg satellite in October as part of an EO constellation of 108 (!!) satellites. The constellation appears to be led by the Chinese Academy of Sciences Xi'an Institute of Optics and Precision Mechanics, which is a major CAS research institute. The interesting thing here, beyond the pairing up with Xiamen (more on that in a minute), is the similarity to the early days of CGSTL, a commercial EO constellation that spun out from the Changchun CAS Institute of Optics and Fine Mechanics.
While it's too early to tell, what may be happening here is that the CAS Xi'an has a similar plan to CAS Changchun, albeit around 5-7 years behind the latter. Of note is the fact that when CAS Changchun spun out CGSTL (2014), the founding team had been working together doing satellite/EO-related optical research for around a decade, and so they had quite a head start. Depending on how many resources CAS Xi'an wants to devote to this constellation, we might see a migration of CAS Xi'an researchers (at least some of them) from Xi'an to Xiamen, and we may well see this 108 satellite constellation come to fruition. Last point on Xiamen, as Jean mentioned earlier, the LM-2D launch this week included the Haisi-2 satellite, launched by Xiamen University following the late 2020 launch of Haisi-1. Apparently a lot of EO going on in Xiamen.
Jean's Take
Speaking of EO constellations, there's another one called the Silk Road Constellation, composed of 24 remote sensing satellites with optical, hyperspectral and SAR payloads, and which announced a couple days ago the launch of the first satellite in September 2021. But being mindful of the time here, that's all I'm going to say, I encourage our viewers to check out our newsletter for more info on the topic ;-).
7) China Announces a MEO Broadband Constellation
Blaine's Take
9 June saw the announcement of "Smart SkyNet", a MEO constellation plan led by Tsingshen Technology (清申科技), a company that may have a relationship with Tsinghua University, one of China's most prestigious and wealthiest. In a speech by Tsingshen General Manager Chen Miaoliang, he noted that the constellation's first phase aims to send 8x satellites to 20,000km MEO, with the first 8 satellites having around 200 Gbps of total throughput. Chen also noted plans for a 2nd and 3rd phase that would bring terabits per second of capacity. These details represent a significant increase in clarity from the very brief mention of "Smart SkyNet" by the Shanghai Government in their 2020-2022 New Infrastructure Development Plan, published in June 2020.
The announced plan is a significant constellation, and would represent a pretty significant amount of broadband capacity into MEO, in particular given China's seemingly accelerating plans in the LEO space. That being said, the two orbits can have some differences, and there is already a proven business case for MEO constellations.
Medium-Earth Orbit in the context of broadband constellations is around ~60% of the way between the earth and GEO orbit, meaning lower latency, among other things. Around 15 years ago we began to see a plan for a MEO broadband constellation, namely O3b, or the Other Three Billion (i.e. the number of unconnected people around the world at that time, maybe). The constellation was spearheaded by Greg Wyler, the same guy who started OneWeb, and early investors included Google and satellite operator SES. The constellation began launching in 2013 and now has 20 satellites in MEO orbit.
O3b was not able to connect the other three billion for a variety of reasons, but the constellation has become a real business for its now whole owner, SES, with the company using the MEO satellites and their very high throughput per beam (~1 Gbps) to connect areas with a large-ish number of unconnected people in a relatively small space. Best example: cruise ships. Over the past 5-7 years, the quality of internet connectivity on cruise ships has increased dramatically, because O3b antennas are put on the cruise ship. Other uses include remote mines, islands in the Pacific Ocean Region, etc.
To now, O3b remains the only major communications constellation in MEO (though MEO is also home to satnav). But, with the increased details about Smart SkyNet, it seems likely that we will see a "Chinese O3b" in the coming years.
This has been another episode of the Dongfang Hour China Aero/Space News Roundup. If you've made it this far, we thank you for your kind attention, and look forward to seeing you next time! Until then, don't forget to follow us on YouTube, Twitter, or LinkedIn, or your local podcast source. 
Blaine Curcio has spent the past 10 years at the intersection of China and the space sector. Blaine has spent most of the past decade in China, including Hong Kong, Shenzhen, and Beijing, working as a consultant and analyst covering the space/satcom sector for companies including Euroconsult and Orbital Gateway Consulting. When not talking about China space, Blaine can be found reading about economics/finance, exploring cities, and taking photos.
Jean Deville is a graduate from ISAE, where he studied aerospace engineering and specialized in fluid dynamics. A long-time aerospace enthusiast and China watcher, Jean was previously based in Toulouse and Shenzhen, and is currently working in the aviation industry between Paris and Shanghai. He also writes on a regular basis in the China Aerospace Blog. Hobbies include hiking, astrophotography, plane spotting, as well as a soft spot for Hakka food and (some) Ningxia wines.