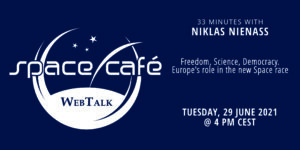 This Space Café WebTalk will feature Niklas Nienass, Member of the European Parliament, The Greens/EFA, in conversation with Torsten Kriening, publisher of SpaceWatch.Global.
Freedom, Science, Democracy. Europe's role in the new Space Race
Space travel is currently undergoing rapid change. New possibilities promise profits in the billions and the richest people in the world are pushing into orbit. At the same time, major powers such as the USA and China are expanding the militarization of space. In the coming decades, space travel will change the face of the earth. And the European Union has to decide: What role does it want to play? We discuss how Europe can become a major player in the current space race – and defend its values in orbit and beyond.
The audience will have an opportunity to ask questions in dialogue with Niklas Nienass.
SpaceWatch.Global is a Switzerland-based digital magazine and portal for those interested in space and the far-reaching impact of the space sector.
This Space Café WebTalk will be conducted in English on 29nd June 2021 at 4 pm CEST.
Reserve your place today.