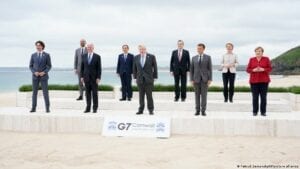 Paris, 15 June 2021. – The G7 nations committed to a safe and sustainable use of space at their leaders' summit in Carbis Bay, Cornwall, the UK government said.
Delegates from Canada, France, Germany, Italy, Japan, the USA, the UK and the EU pledged to take action to tackle the growing hazard of space debris as our planet's orbit becomes increasingly crowded, the UK said.
"As the orbit of our planet is a fragile and valuable environment that is becoming increasingly crowded, which all nations must act together to safeguard, we agree to strengthen our efforts to ensure the sustainable use of space for the benefit and in the interests of all countries," the declaration said.
"We welcome the United Nation's Long Term Sustainability Guidelines and call on others to join us in implementing these guidelines."
"We call on all nations to work together, through groups like the United Nations Committee on the Peaceful Uses of Outer Space, the International Organization for Standardization and the Inter-Agency Space Debris Coordination Committee, to preserve the space environment for future generations."