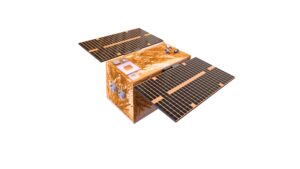 Edinburgh / Brussels, 17 February 2022. – Belgian satellite manufacturer Aerospacelab announced having raised €40 million in a Series B funding, co-led by Airbus Ventures and XAnge, a European investor in early-stage startups. Other investors include Octave & Miroslaw Klaba, SRIW, Noshaq, BNP Paribas Private Equity, Sambrinvest, and Belaero. Aerospacelab has raised a total of €60 million since its founding in 2018. 
Aerospacelab is dedicated to making geospatial intelligence actionable and affordable with a vertically-integrated approach. The company's satellite constellations provide real-time data for applications ranging from defense and security to the civil sector. Aerospacelab launched its first satellite in 2021.
The firm will use the funding to increase its satellite production capacity and deploy multiple constellations. The aim is to establish an intra-daily monitoring of Earth, with implemented geospatial data fusion analytics capabilities, Aerospacelab said.