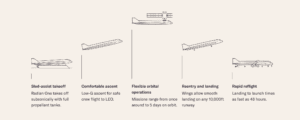 Edinburgh / Renton, 20 January 2022. – Radian Aerospace (Radian), announced that the company recently closed US $27.5M in seed funding. The round was led by venture capital fund Fine Structure Ventures, with investment from EXOR, The Venture Collective, Helios Capital, SpaceFund, Gaingels, Explorer 1 Fund, and Type One Ventures among others.
Radian is developing Radian One, the world's first fully reusable horizontal takeoff and landing, single-stage to orbit spaceplane. The company has been in stealth mode focusing on the design and initial development stages. 
The new investment will help the firm progress with a system capable of a wide range of space operations. These include delivering people and light cargo to low Earth orbit with aircraft-like operations.
Radian aims to focus on unique mission types, many of which can only be done because of its winged configuration. The firm already has launch service agreements with commercial space stations, in-space manufacturers, satellite, and cargo companies. It also has agreements with the U.S. and other foreign governments, according to Radian.
Radian has a commercial market opportunity worth about US $200B for its new launch vehicle. The company's goal is to steadily mature its core technologies, eventually bringing down the cost of aircraft-like flight cadence.