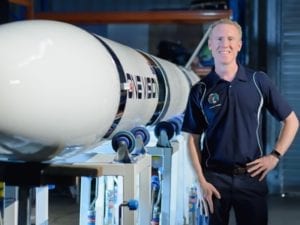 Paris, 30 June 2021. – The Australian launch services company Gilmour Space Technologies has secured a Series C funding round of €39 million from global investors, the company announced.
The Series C round includes US-based Fine Structure Ventures, Australian venture capital firms Blackbird and Main Sequence, and Australian superannuation funds HESTA, Hostplus, and NGS Super. It brings the company's total funds raised to date to 87 million Australian dollars (€54 million), Gilmour said.
It called the round "the largest private equity investment raised by a space company in Australia".
Gilmour launched its first hybrid rocket in mid 2016; since then, it has achieved "a series of significant technology milestones to become a world leader in orbital-class hybrid propulsion technologies that use safer and lower cost fuels than traditional chemical propulsion rockets", it says.
In recent months, the company has secured launch contracts with Australian and international customers including US-based Momentus, Sydney-based Space Machines Company, and South Australia's Fleet Space Technologies.
With over 70 employees in its Gold Coast, Queensland rocket facility and a growing network of 300 partners and suppliers, Gilmour Space is seen as one of the main drivers of the Australian space sector.