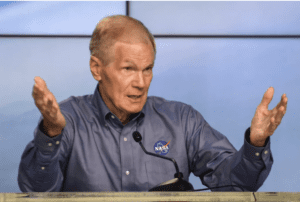 Paris/ Washington DC, 20 January 2022. – U.S. Vice President Kamala Harris charged the National Space Council to focus on the rules and norms governing space, leveraging space to tackle the climate crisis, and building a diverse space and STEM workforce, NASA said after Harris chaired her first council meeting.
U.S. President Biden enlarged the National Space Council and added five new members, NASA said: the Secretaries of Education, Labor, Agriculture, and the Interior, as well as the National Climate Advisor.
NASA also announced a "strategic, first-of-its-kind partnership" with the European Space Agency (ESA) to observe Earth, its climate and changing environment.
A joint statement of intent, signed Tuesday, outlines "how the agencies will collaborate to ensure continuity of Earth observations; advance understanding of the Earth System, climate change and application of that knowledge; and collaborate on an open data policy that promotes open sharing of data, information, and knowledge within the scientific community and the wider public," NASA said.
NASA activities supported more than $60 billion in total economic output and more than 300,000 jobs nationwide last year, the agency said. It also grew its social media following to 277 million – up 14% from 240 million in 2020.
"Since President Biden and Vice President Harris were sworn in one year ago, their administration has made generational progress for Americans – and made NASA a priority. This spring, as Artemis I lifts off from Kennedy Space Center, the world will once again witness America's unrivaled ingenuity and inspiration as NASA prepares the next generation to return to the Moon and on to Mars," NASA Administrator Bill Nelson said. "I am proud of the work the agency has done to support this administration's priorities on climate change, global leadership, diversity, equity, STEM education, and so much more. And we all should look forward to an even more robust future as NASA continues to explore the heavens and benefit life here on Earth."