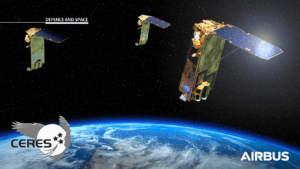 Bremen/ Kourou, 17 November 2021. – Arianespace has successfully launched three French military Ceres satellites on a Vega from the European spaceport in French Guiana, Airbus and Arianespace said.
The satellites were built by Airbus Defence and Space and Thales for the French Armament General Directorate. CERES stands for Capacité de Renseignement Electromagnétique Spatiale or Space-based Signal Intelligence Capability.
The three satellites are designed to detect and geo-locate electromagnetic signals from radio communication systems and radars from areas where surface sensors cannot reach, Airbus said.
The system is to provide in-depth information to support military operations for the French Armed Forces, thus improving situational awareness.