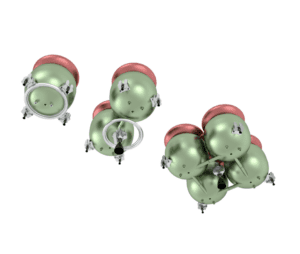 Budapest / Bremen, 18 November 2021. – Orbit Fab and Dawn Aerospace announced a collaboration to make on-orbit refuelling available to satellites utilising green propellants such as nitrous oxide and propylene.The collaboration was announced at Space Tech Expo Europe in Bremen.
The "Gas Stations in Space" company Orbit Fab offers refuelling services in space and developed a port known as RAFTI (Rapidly Attachable Fluid Transfer Interface). RAFTI was recently made available under an open license for both government and commercial satellites. RAFTI fuelling ports will become an option for Dawn customers from mid-2022.
The space transportation company Dawn provides in-space propulsion systems using a combination of green propellants. Nitrous oxide and propylene are not subject to complex export controls and are available from domestic industrial gas suppliers, Dawn said. The company's propulsion systems have flown on Vega, Falcon 9, and Soyuz launch vehicles. These flights proved the on-orbit viability of the technology for both cube sats and small satellites.
A materials study demonstrating the compatibility of Dawn propellants and RAFTI ports has been completed and qualification is in progress, Dawn said. The plan is prolonging the life of satellites to enhance space sustainably with the joint technologies.