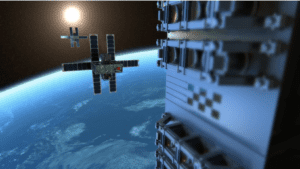 Budapest / Newcastle, 11 November 2021. –  The UK Space Agency has awarded almost £650,000 to Northumbria University to continue developing the first commercially available laser-based inter-satellite communications system, the University reports. Northumbria is one of eleven leading UK organisations to have been awarded a share of the UK Space Agency's £7M funding under the National Space Innovation Programme.
The University is working in partnership with Durham University's Centre for Advanced Instrumentation, the e2E Group and SMS Electronics Limited. The aim is to develop a commercial product for global organisations and telecoms providers, the University said.
Last year, the University was awarded £360,000 to run the discovery phase of the project. The new funding brings the total amount awarded to more than £1 million. This will enable the building and testing of the laser system over the next year.
Satellites currently use radio frequency to transmit data which has limited speed, capacity and data security. Northumbria University's laser-based communications system for CubeSats is more secure and can transmit 1,000 times more data per second as per the University. Three CubeSats will hold the new laser communication system, which requires the technology to be miniaturised. The design will also have to withstand the atmospheric drag, cold temperatures and radiation in space. The first devices will be ready for testing in early 2023 and could go into orbit by 2025.