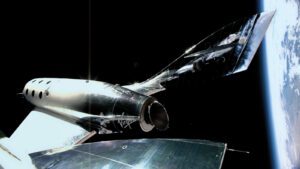 Budapest/ Las Cruces, New Mexico, 11 November 2021. – Virgin Galactic reported a strong interest in suborbital flights from customers as the company sold approximately 100 tickets for US $450,000 each after reopening ticket sales in August. This makes the total number of bookings about 700.
Virgin Galactic said the new customers had previously paid a deposit of US $1,000 to be the first in line when ticket sales resumed. The clients paid a US $150,000 deposit each, of which US $25,000 is non-refundable. After its July flight to space, a further 60,000 people contacted the company to express interest in buying tickets.
Virgin Galactic's goal is to have 1,000 customers when it begins commercial service. Clients will have to be patient though, as the company had started a longer maintenance period. Both the VSS Unity and VMS Eve vehicles will be enhanced. VMS Eve's central wing section and pylon will be modified, its horizontal stabilisers replaced among other works on its avionics and mechanical systems.
VSS Unity will resume flights with a rescheduled research flight for the Italian Air Force in late 2022. The company is to begin commercial flights in Q4 of 2022.