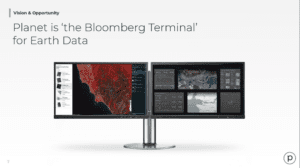 Luxembourg/ Washington DC/ Haarlem, 11 November 2021. – The Earth imaging company Planet acquires the Haarlem/ Netherlands based ag data specialist VanderSat, Planet said.
Planet acquires VanderSat, a leading provider of advanced earth data and analytics, for approximately $28 million, in a mix between $18 million in Planet Labs PBC shares and $10 million in cash, the company said.
Planet will become a publicly-traded company through a merger with dMY Technology Group, Inc. IV (DMYQ) , a special purpose acquisition company (SPAC). The combined company will retain the Planet name and be listed on NYSE under the ticker symbol "PL."
VanderSat has world-class expertise in providing insights to customers by drawing from NASA, ESA and JAXA satellite data, and has built a suite of novel products that report on key conditions on the Earth's surface, like soil moisture, land surface temperature, vegetation optical depth, and biomass, Planet said.
VanderSat's algorithms deliver daily, global data products with great accuracy, unhindered by changing cloud-cover and atmospheric conditions, bringing value to users in agriculture, civil government and insurance by providing them with "richer insights and more precise measurements", Planet said.
The VanderSat team based in the Netherlands "will further increase Planet's commitment to the European ecosystem", the company added.