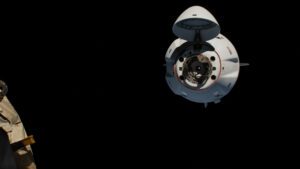 Budapest / Washington, 12 November 2021. –  NASA SpaceX Crew-3 astronauts docked to the ISS more than 30 minutes ahead of schedule, less than 24 hours after launching from the Kennedy Space Center.
NASA astronauts Raja Chari, Tom Marshburn, Kayla Barron, and ESA astronaut Matthias Maurer arrived aboard the Crew Dragon spacecraft Endurance.
The Crew-3 mission had a smooth launch on 10th November on a SpaceX Falcon 9 rocket. Crew Dragon then docked autonomously, with the astronauts monitoring the performance of the spacecraft. Docking took place while flying 418 km above the eastern Caribbean Sea. Following the link up to the forward port of the Harmony module, the astronauts conducted standard leak checks and pressurisation prior to opening the hatch.
The crew was greeted by NASA astronaut Mark Vande Hei, Expedition 66 Commander Anton Shkaplerov and Flight Engineer Pyotr Dubrov of Roscosmos on board of the ISS. They will remain on board of the microgravity laboratory until April 2022 as a part of Expedition 66. The aim of the expedition is to advance scientific knowledge and demonstrate new technologies for future exploration missions, NASA said.
This is the first flight for Chari, Barron, and Maurer, while it is the third for Marshburn, who took part in Expedition 34 and 35 as well.
Four new astronauts through the hatch and seven crewmembers total on the @Space_Station!

After almost exactly a day from launch, #Crew3 is aboard the orbiting laboratory. pic.twitter.com/QJoBUsJcsj

— NASA (@NASA) November 12, 2021