This Space Café WebTalk will feature Johanna Bergström Roos, in conversation with Torsten Kriening, publisher of SpaceWatch.Global.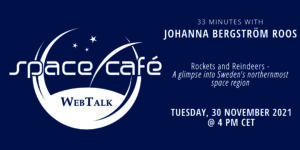 Rockets and Reindeers – a glimpse into Sweden's northernmost space region
Johanna Bergstrom-Roos is employed at LTU Business AB since October 2011 and is working with Kiruna base. She is the project manager of RIT2021 and a business developer with a mission to strengthen Luleå University presence in Kiruna by developing cooperation between the university and the local business community. She also has a special assignment as a senior consultant to develop the university's space operations at the Space Campus in Kiruna. Johanna has a long and broad experience of the space sector, mainly within communications and marketing activity in strategy, management and operational work. She has also an extensive global network of contacts in the aerospace industry, and extensive experience in public relations.
The RIT2021 project is operated in the northernmost parts of Sweden, a region that is on the verge of providing unique access to space from European ground. With Esrange Space Centre, providing an attractive testbed for the next generation of European rocket motors and soon satellite launches, the region has evolved into one of the most versatile space hubs in the world. In parallel with the exciting development at Esrange (run by SSC) they have world-leading science at the Swedish Institute of Space Physics and tailormade space education programmes at the Luleå University of Technology within a radius of 40 km (in the town of Kiruna). The region actors within the space sector belong to the academic sector, the business sector, and actors within the innovation support system. The collaboration is focusing on being a strategic asset for the global space arena by building up a strong Ecosystem that attracts people, new establishments, and investors. This will happen through activities that increase the space sectors' capacity within collaboration, research, test-driven development, and clustering. The project has established a meeting point called "Space Innovation Forum" The thirteens addition is coming up on 1-2 December in Kiruna (the day after the space café) this time with the central theme: ACCESS TO SPACE. Day 1 of the program is broadcasted and available for online participation) Programme and information here.
The audience will have an opportunity to ask questions in dialogue with Johanna Bergström Roos.
SpaceWatch.Global is a Switzerland-based digital magazine and portal for those interested in space and the far-reaching impact of the space sector.
This Space Café WebTalk will be conducted in English on 30 November 2021 at 4 pm CET.
Reserve your place today.