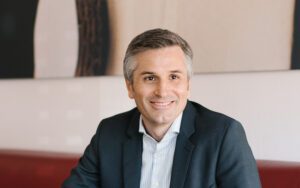 By Chiara Moenter
During this week's Space Café, SpaceWatch.Global publisher Torsten Kriening caught up with the Director of European Space Resources Innovation Centre (ESRIC)  and Director for International Affairs & SpaceResources.lu at the Luxembourg Space Agency (LSA) Dr. Mathias Link.
Mathias is recognised as an expert in the field of space resources and currently works on the definition and implementation of Luxembourg's space sector policy, with a focus on international affairs, legal & regulatory issues, research, as well as finance. For more than ten years, Mathias Link has represented Luxembourg in space-related boards at the European Union and ESA, as well as in the United Nations Committee on the Peaceful Uses of Outer Space.
This week, he and Torsten talk about why space resources will be driving the future of space exploration, Luxembourg's interest in space resources, and the community and start-up programme ESRIC and the LSA offers.
Luxembourg and interest in space resources
Luxembourg has been active in space since the 1980s, starting in commercial satellite communications with the creation of SES. Since then, the sector has grown, becoming an integral sector in the country's economy.
"And the sector is also recognized as one of the key priorities for diversification of our economy."
Mathias explained that from the government side, they began looking at space resources about 10 years ago.
"We started looking into this and saw that this was actually very promising, obviously, space resource utilization, meaning using different resources like water gases, metals bring a lot of different applications."
The huge potential of space resources was recognized, and so Luxembourg began to investigate this.
"And that led them to the launch of the space resources to the EU initiative in February 2016, where we gave ourselves the objective to contribute to the peaceful exploration and sustainable utilization of space resources for the benefit of humankind. And since then, we have really implemented a lot of different activities on many different aspects and layers."
This means, many different international partnerships with European partners at the European Space Agency, and the European Union, as well as becoming active at the United Nations. And adopting a national law in 2017, recognizing the possibility of resources ownership, but also laying down a complete framework for the authorization and supervision of corresponding missions.
 Challenges putting the ideas into action 
Mathias states that there are a few different challenges when putting space resources on the map in Luxembourg for both the public and the private sector. These challenges are on a technical, regulatory, and financial level.
"And of course, you have the overall challenge that all these individual challenges are very much interlinked, they are very much related, you will of course, not find an investor investing in markets that do not exist with unclear legal issues and with an immature technology."
Another big challenge takes shape in trying to develop sustainable activities in cooperation with the private sector.
"And the difficulty here is, of course, that we very often try to address markets that do not yet exist."
In order to address these challenges, there has to be a parallel focus and the role of governments and agencies is that of a bridging entity – playing the role of an anchor for customers or early risk-takers to support the private industry.
"And more specifically, what we have tried in Luxembourg is to look for companies that share this long-term vision that we also have, but also have ideas on proposing near term business models addressing existing markets in space and on Earth."
The Goal of ESRIC
ESRIC is an initiative that we took together with ESA, responding to both Luxembourg's national strategy space resources towards the EU, and to the ESA strategy on space resources, which was published in May 2019.
"What we aim with as ESRIC is to create a new internationally recognized centre of expertise for both scientific and technical aspects, but also business and economic aspects related to the use of space resources. And of course, we do this again to go further in human and robotic exploration, but also to lay the grounds for future in space economy."
Mathias explains they are active in four main pillars on the global level.
"The most important one, I would say, is the research pillar, where we will start research activities all along the value chain of space resources. So really going from the prospection of resources to the mining and beneficiation of these resources, and then to the processing and, and manufacturing of these resources into viable applications."
The second pillar is business with a focus on pushing commercial partnership but also including the launch of a launched support program for start-ups.
The third pillar is a platform to bring together the community in Europe.
"Europe, because we know that many players that are active in this field, but what is missing is more opportunities to bring them together to exchange ideas and to come up with new projects."
The fourth pillar is the knowledge management pillar, where they try to build up a central platform together to structure and to make the knowledge available that exists in ESRIC, but also in Europe and even on an international level.
Bringing in the non-space industry
"Now specifically for space resources, what we are doing is trying to increase the level of recognition and taking it seriously because I agree with you when you hear this for the first time, it sounds a bit like science fiction, but that has to change"
In order to do so, Mathias describes that it's all about taking the time to explain. They are active in the media showing the opportunities that are linked to space resource utilization to the general public.
"So that's one thing, trying to just generally increase the knowledge. And by that also bringing in people and companies maybe that, that did not think about this as a huge opportunity."
Start-up programmes at the ESRIC Centre
ESRIC does not want to solely focus on research, but rather aid the develop further companies in this field. To do so, they launched the ESRIC start-up program at the ISC a few weeks ago.
"The aim of that program, which is actually the world's first fully dedicated to space resources, companies are to work in three phases."
The first phase, which companies and groups from all over the world can join, is about mentoring, bringing in teams that will receive both business and technical advice from the partners of ESRIC. The second phase is the incubation phase in Luxembourg, with office spaces and,000 euros of an initial grant to help develop the team. The third phase is residency, where the start-ups that are actually very close to the researchers and also have the opportunity to stay at ESRIC for a longer time.
Finally, the age-old question…
What will come first: Asteroid resources, or Lunar resources?
To this chicken and egg question, Mathias explained, that they have conducted some studies and the results were very clear.
"I think the moon has a lot of advantages in being more accessible, also having a lot of interest in recent years. So, the first space resource utilization, or let's say larger utilization will be on the moon."
From there, the further activities can happen in low Earth orbit, or Earth's orbit in general, and then serve as a stepping stone towards Mars. Mathias states that asteroids also have a lot of advantages, which will be the next step to address.
To listen to Mathias Link's insights on space resources and his experience with ESRIC and the LSA, you can watch the full program here:
Chiara Moenter is the event coordinator of SpaceWatch.Global and the co-founder of "SDG18: Space for All". Currently, she is doing her masters in Sustainability Science at Maastricht University.