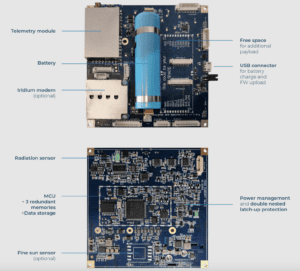 Edinburgh / Torino, 25 November 2021. – Nanoracks Europe announced preparations to deploy FEES2, the first-ever 0.3U CubeSat from the ISS. The trackable satellite, the thickness of a cherry, was developed by GP Advanced Projects (GPAP).
Production and space projects management company GPAP called the mission a "major milestone towards building the first Italian nanosatellite constellation for IoT." By launching FEES2 (Flexible Experimental Embedded Satellite-2), the company will test critical satellite components specifically designed for miniaturised experiments. 
Miniaturisation of space technologies allows for broader participation in space research. It also enables CubeSat developers to make progress more rapidly. This mission demonstrates the possibility of such deployments in a very short amount of time.
GPAP selected space services provider Nanoracks for the integration services, launch brokerage, and deployment of FEES2 earlier this year. Nanoracks conducted a feasibility study with NASA to verify the satellite's trackability and quantify its deployment parameters, the company said. The satellite is now integrated into a Nanoracks CubeSat Deployer with several other CubeSats. The cargo is planned to launch for the ISS on the 24th SpaceX Commercial Resupply mission in December 2021.