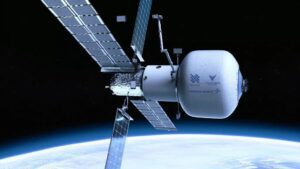 Luxembourg/ Washington DC, 12 November 2021. – Nanoracks, the space travel affiliate of the Voyager Space Company group, appointed Amela Wilson as new Chief Executive Officer (CEO).
The former CEO and co-founder Jeffrey Manber will join Voyager Space as President of International and Space Stations and remain Chairman of the Board at Nanoracks, the company said.
Nanoracks claims to be "the world's leading provider of commercial space services" and recently announced its intent to develop Starlab, "the first-ever free flying commercial space station", together with Voyager Space and Lockheed Martin. Nanoracks owns and operates private hardware on the International Space Station and has launched over 1,300 research experiments, deployed over 300 small satellites, and installed the Bishop Airlock.
Amela most recently served as Senior Vice President and General Manager at Mercury Systems, where she oversaw five company sites and over 500 employees during her tenure. She was also the Vice President and General Manager – Surveillance at FLIR Systems and the Vice President and General Manager – Sensors and Fire Control Systems Solutions at Elbit Systems of America.