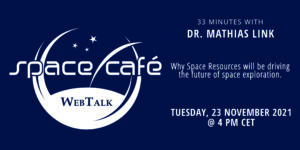 This Space Café WebTalk will feature Dr. Mathias Link, Director of European Space Resources Innovation Centre (ESRIC) and Director for International Affairs & SpaceResources.lu at the Luxembourg Space Agency (LSA), in conversation with Torsten Kriening, publisher of SpaceWatch.Global.
Why Space Resources will be driving the future of space exploration.
Mathias Link is recognised as an expert in the field of space resources, currently holding the position of Director of International Affairs and SpaceResources.lu at LSA as well as the position of Director of ESRIC. He works on the definition and implementation of Luxembourg's space sector policy, with a focus on international affairs, legal & regulatory issues, research, as well as finance. He has been in charge of the coordination of the SpaceResources.lu initiative since its launch in 2016. Before joining LSA, Mathias Link occupied similar functions at the Ministry of the Economy and Luxinnovation. For more than ten years, Mathias Link has represented Luxembourg in space-related boards at the European Union and ESA, as well as in the United Nations Committee on the Peaceful Uses of Outer Space (COPUOS). He was also a member of the Hague International Space Resources Governance Working Group.
Launched in February 2016 and led today by the LSA, the SpaceResources.lu Initiative positions Luxembourg as a pioneer in the exploration and utilisation of space resources. The identification and utilisation of space resources is fast becoming a reality, driven by a revolution in space technology, accelerating exploration of outer space and the eventual scarcity of certain resources on Earth. Building on its long history at the forefront of the commercial satellite communications industry, Luxembourg aims to play a leading role in the exploration and utilisation of these resources. Its goal is to ensure that space resources explored under its jurisdiction serve a peaceful purpose, are gathered and used in a sustainable manner compatible with international law and for the benefit of humankind.
The audience will have an opportunity to ask questions in dialogue with Dr. Mathias Link.
SpaceWatch.Global is a Switzerland-based digital magazine and portal for those interested in space and the far-reaching impact of the space sector.
This Space Café WebTalk will be conducted in English on 23 November 2021 at 4 pm CEST.
Reserve your place today.