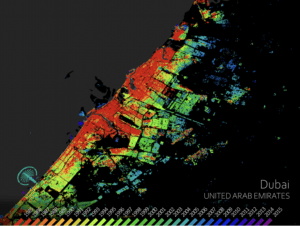 Budapest / Koeln, 12 November 2021. – ESA announced the development of the World Settlement Footprint in collaboration with the German Aerospace Center (DLR) and the Google Earth Engine team, aimed to improve the understanding of trends in global urbanisation. This will be the world's most comprehensive dataset on human settlement, ESA said.
According to the UN Department of Economics and Social Affairs, the world's population is expected to reach 9.7 billion by 2050. Currently, 55% of the this population lives in urban areas and this is to grow to 68% by 2050. Unplanned, fast urbanisation coupled with climate change may result in an increase in air pollution and higher vulnerability to disasters. The management of natural resources could become problematic as well.
The World Settlement Footprint suite consists of multiple different products and two of these have been released this week during COP26. These are the World Settlement Footprint 2019 (WSF 2019) and the World Settlement Footprint Evolution (WSF Evolution). These products use Google's platform for geospatial data analysis, Google Earth Engine.
The WSF 2019 provides information on global human settlements with the help of data from the and Sentinel-2 missions. Meanwhile, the WSF Evolution uses images from the US Landsat satellite collected between 1985 and 2015. This product shows the growth of human settlements on our planet on a year-to-year basis.