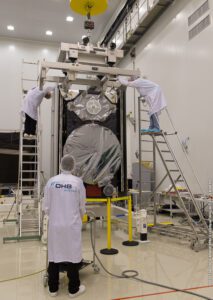 Edinburgh, 15 October 2021. – SpaceLink has chosen OHB Systems as the preferred tenderer for the initial constellation of four high-capacity optical relay satellites in Medium Earth Orbit (MEO), the company said.
The parties are currently in advanced contract negotiations about the manufacturing and delivery of the initial constellation andwill sign an "Authorization to Proceed" next week.
The total value of the contract is predicted to be over US $300 million. In addition, OHB intends to invest US $25 million into SpaceLink as the cornerstone investor for financing the project, SpaceLink said.
The relay system is planned for a 2024 launch and will provide operational connectivity to both commercial and government space missions. The network will use RF and optical links to the relay satellites and laser crosslinks to divert traffic to any SpaceLink ground entry point.
The MEO constellation will support growing bandwidth need and security requirements of commercial and national security missions.