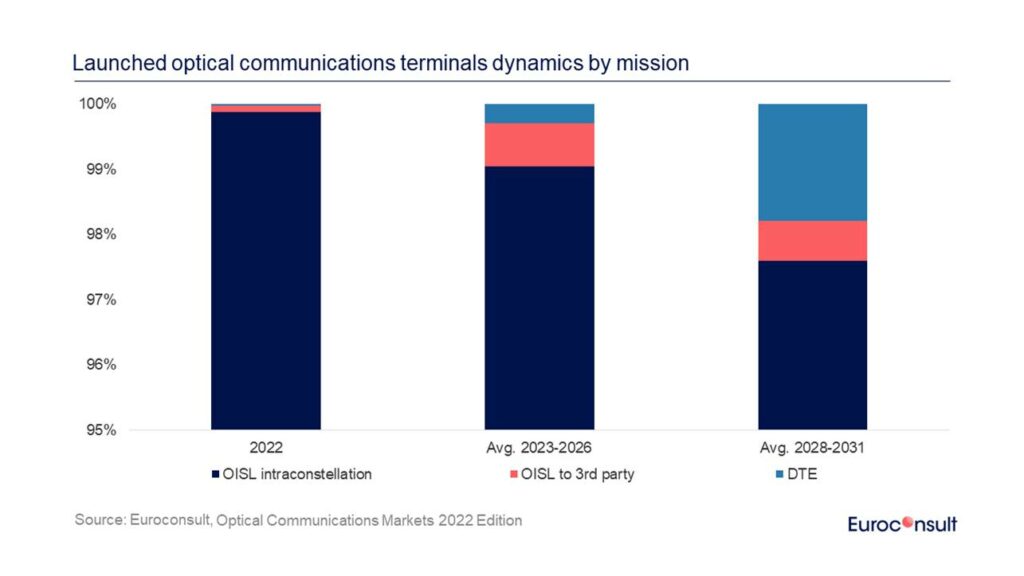 Edinburgh / Paris / Washington D.C. / Montreal / Yokohama / Sydney, 17 January, 2023. – Euroconsult released a report on the Optical Communications Market, with market-leading in-depth analysis of the equipment and solutions using optical links, the intelligence firm said.
Optical communication data transmission offers higher data throughput rates, and as it works via a narrow light beam, it also promotes information security.  According to Euroconsult's report, satellite constellation operators benefit from switching from radiofrequency electromagnetic waves to optical or laser communication. However, there are technological challenges to widespread adoption, including link reliability governed by beam accuracy, the firm says.
Among the applications for optical communications terminals, inter-satellite links (ISL) are largely dominant, expected to surpass 70,000 units in orbit by 2031. Optical communications will also enable data-relay space services. At the end of 2021, less than 10 data-relay capable satellites were in orbit, but this number is expected to grow to 250 units by 2031. Optical communication terminals will be used for Direct-To-Earth (DTE) communications, reaching around 450 units by 2031.
To read the detailed analysis of global space-based optical communications supply and demand, along with decade forecasts, click here.