by Dr. René Olie, Co-founder and programme director of the Space for Business Alliance

Space is seen as the new economic frontier. An increasing number of entrepreneurs and "New Space" companies are building their business models around infrastructures, products or services developed for space and non-space markets. High profile entrepreneurs like Bezos, Musk and Branson have entered the scene and have announced ambitious plans to invest in commercial space travel and other space business. Not surprisingly, finance & investment company Morgan Stanley estimated in a recent report that the space sector can grow to $1 trillion dollars in 2040.  Yet, while many firms in this sector start with great ambitions and ideas, they often lack the management knowledge and skills to grow their business. Many entrepreneurs and professionals in the sector have a technical background and have limited knowledge of the strategic, organizational and leadership challenges that face start-ups and scale-up companies. Non-space firms interested in entering the space sector to exploit its many opportunities, face the opposite challenge. While they possess general management experience and expertise, they usually lack industry-specific knowledge and networks. This has stimulated three European business schools to join forces and  launch the first international space business education programme in November 2021. The three schools, University of St. Gallen from Switzerland, Nova School of Business and Economics from Portugal, and Rotterdam School of Management, Erasmus University from the Netherlands, developed this unique programme in close collaboration with ESA Space Solutions.

Bringing space and business education together in an international programme organized by business schools is completely new. Many professionals and entrepreneurs in the space sector have received their education in technical or engineering universities around the world, with little attention for topics such as entrepreneurship and management.  With the rise of entrepreneurship and entry of private companies in the traditional government and national agencies, the need for management skills and business knowledge has increased. At the same time, there are few, if any, business schools around the world that offer business education specifically targeted at this sector. The International Space University, an important provider of education still focuses largely on the systems and technical aspects of the space sector. In this respect, the entry of business schools in the space arena will help to reinforce the space industry's knowledge infrastructure.
The space industry is a global industry. While national borders matter because of national and regional funding programmes, collaboration among different players is a key characteristic of the industry. In this spirit, the three schools have decided to join forces to create a truly international programme. The programme takes place across three countries: Switzerland, Portugal, and the Netherlands, and in four different locations: St. Gallen, Lisbon/Cascais, Rotterdam, and Noordwijk (ESTEC). Each of the three countries has a strong connection to the space industry and is characterized by a strong startup culture. This allows participants not only to benefit from access to three business schools including ESA, but also tap into different space clusters, and different business networks.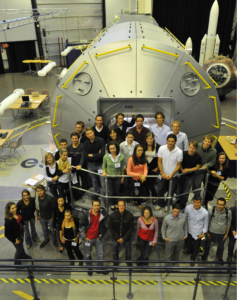 The three business schools have an excellent reputation in offering first-class business education for professionals working in a range of different sectors. Each school has its own strong link with the space industry and related industries. For example, Rotterdam School of Management is already working for 17 years with ESA Space solutions in programmes that connects business students to space technology and space companies. University of St. Gallen with its Center for Aviation Competence offers executive courses in aviation management and is co-founder and the administrative lead of the Swiss Aerospace Cluster Network. Nova with its strong competence in entrepreneurship offers its expertise to professionals working in a variety of industries.
The programme is open to anyone working in the space industry as manager, professional or entrepreneur, as well as those wishing to learn more about the space sector and the opportunities if offers. The programme has three key characteristics:
The programme focuses on entrepreneurship, innovation management, strategic management and leadership development tailored to the specific needs of the space sector.
The programme is organized as a personal learning journey. Participants work on personal real-life impact projects in which they can apply their learnings to their own projects. For this, they receive coaching during the programme.
The programme is small-scale and intensive. This allows participants to work closely together, share their knowledge and grow their network.
The programme consists of four residential modules of 2-5 days each, taking place respectively in Switzerland, Portugal, and in the Netherlands. Between modules there is an online programme where participants attend guest lectures from experts on topics such as space law, have meetings with space professionals, and receive coaching on their own project.
The first module is held in St Gallen, Switzerland. In this module, we focus on the space business economy, future trends and business opportunities and implications of these developments for business models. Industry experts and business professors will organize these sessions.
In the second module, held in Lisbon/Cascais, Portugal, we shift the focus to the entrepreneurial process. It is about developing new ideas, and building, growing a business around this idea. Hence, we focus on topics such as creativity and ideation, but also on entrepreneurial team development and financing new business operations. One of the opportunities of the new space sector are the Sustainable Development Goals.
In the third module, we focus on the question of how to scale up your business and grow beyond that of a small-scale company. How do I as a firm partner with other firms, how do I participate in the innovation ecosystem? How do I scale up my business? How do I develop a personal leadership vision to manage my business? This module will be held in Rotterdam, the Netherlands
The fourth module, touchdown, is different from the preceding ones; it will be held in the R&D facilities of ESA, located in the Netherlands. This is a great opportunity to learn about the ESA ecosystem, its startups and meet them in personal session. In this module we have personal presentation and the graduation ceremony, where you will receive you certificate!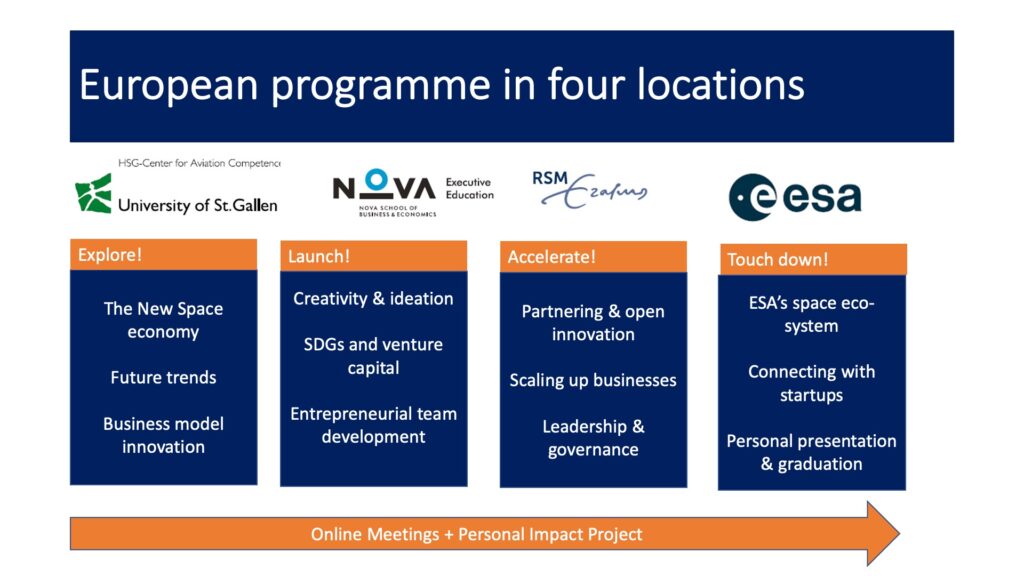 For more information and contact:
More information about the Space for Business alliance can be found on the website www.spaceforbusines.eu.
Contact [email protected] or connect via LinkedIn: https://www.linkedin.com/company/73183881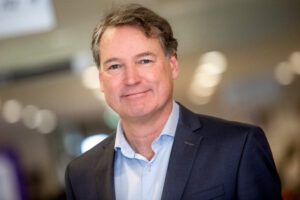 Dr. René Olie is an Associate Professor of Strategic Management at Rotterdam School of Management, Erasmus University, and is co-founder of the Space for Business Programme.  René is Academic Director of the MSc International Management programme and represents RSM in the leading international alliance of management schools, CEMS. In this context, he has worked closely together with the European Space Agency to connect business students with space entrepreneurs and the space industry. He has an MSc in Social Psychology (Vrije Universiteit Amsterdam) and a PhD in International Business (Maastricht University). He has worked as an assistant professor at Maastricht University before joining Rotterdam School of Management in 2001.