by Luisa Low
During this week's Space Café, SpaceWatch.Global publisher Torsten Kriening got to chat with Lukasz Wilczynski – the brain, organiser, hidden champion and president of the European Space Foundation and the CEO of Polish tech publicity firm, Planet Partners. A self-confessed "space evangelist", Lukasz Wilczynski, is also the founder of the European Rover Challenge, a TED-X speaker, and has an enviable career spanning public relations and space, having managed tech publicity in Germany across central and eastern Europe.
This week, he and Torsten discuss what it's like coordinating Europe's most significant space and robotics event, and discuss how someone without a space engineering background or tech experience has carved out a leading role for themselves in the booming sector.
It's not over, Mars rover
Founded in 2014 by Lukasz, The European Rover Challenge – which was held last weekend –  is an annual international Martian robots competition attended by university student teams from around the world, who simulate tasks that real Mars Rovers perform.
Student teams are selected over several months during a rigorous process, with students put through their paces before the competition even begins.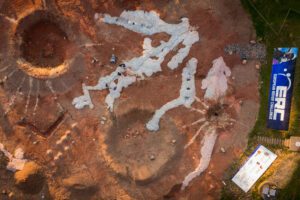 From blind navigation to sampling, this year's competition saw the student teams compete on a 'Mars yard' – a track with a surface inspired by Mars' volcanic plain, Elysium Planitia, developing autonomous rovers that can master the terrain.
Restrictions due to the COVID-19 pandemic meant the 2021 competition was split into two categories – remote and on-site. Ultimately, the Polish team 'IMPULS' took out the top on-site spot, while the remote category was taken by the student team 'DJS Antariksh' from India.
Aside from this impressive and highly realistic display, the European Rover Challenge also comprises public events including exhibitions, conferences and talks by robotics and space companies, educators and advocates, like NASA.
"We always try to invite very interesting and inspirational guests to bring more light on this, and to give people the opportunity to connect with each other."
When there's a will, there's space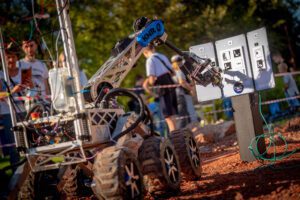 Lukasz isn't an engineer, nor is he a tech person, but he absolutely hasn't let any of that get in the way of a brilliant space career.
Instead, he uses his well-honed experience as a communicator and space historian to make his mark, promoting the organisation's broader mission of encouraging more young people into the sector to realise their space dreams.
"Our broader mission and goal of our organisers is to open the space sector for these young talents, these young minds… these are the real dreamers, the real space watchers"

"Having the European Rover Challenge in front of them, they can touch, they can learn, they can feel the space, they can inspire themselves. And by doing this… we can actually build a really, really committed next generation of scientists, engineers, space artists, space communicators, space lawyers – there is a space for everyone."
To listen to Lukasz Wilczynski's insights into space engagement, you can watch the full program here
Space Café is broadcast live Tuesday at 4 pm CEST. To subscribe and get the latest on the space industry from world-leading experts visit – click here.
Luisa Low is a freelance journalist and media adviser from Sydney, Australia. She currently manages Media and Public Relations for the University of Sydney's Faculty of Engineering.