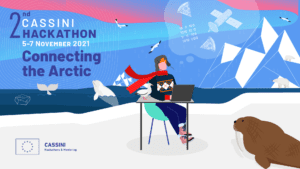 The Arctic is a fascinating and complex geographical, meteorological and biological ecosystem whose impact is significant and far-reaching. From its highly transited shipping routes that connect the Atlantic and Pacific oceans to its role in regulating global temperatures, the Arctic is responsible for much of the way we live. The second CASSINI Hackathon will focus on this extraordinary region, challenging you to develop ideas that help maintain safe passage at sea, assist life on land, and safeguard its native wildlife. With your help, we can protect, support and strengthen the Arctic using European space data, signals, and technologies.
The CASSINI Hackathons and Mentoring, initiated by the European Union and its space programmes, is a series of six hackathons that tackle global challenges using European space technologies. Now in its second edition these hackathons provide access to pre-processed Arctic data, on-demand training, and other valuable tools to help participants take on one of our three challenges. The best ideas will be awarded at both local and EU levels, and the overall winners will gain entry into a six-month mentoring programme that includes 100 hours of customised expert mentoring.
Here's what to expect: If you are a skilful innovator in Europe, you are invited to participate in the CASSINI Hackathon at one of our ten locations. Each hackathon location features its own unique set of experts, prizes, and additional special features. Once you select a location, it's time for registration, team formation and ideation! Your team will choose to solve one of three challenges, all related to the theme of connecting the Arctic:
Safe passage at sea: design products, devices or services that enable container ships, cruise liners and fishing trawlers to navigate safely across our Nordic Seas. If you choose this challenge, you'll be encouraged to dive into the areas of navigation route optimisation, extreme weather and sea ice warnings, the development and connectivity of future shipping lanes, and environmental disaster and emergency management.
Life on land: design products, devices or services that enable human societies, plants and wildlife to better adapt to the Arctic climate. If you choose this challenge, you'll be encouraged to explore topics such as environmental monitoring and climate change mitigation, renewable energy advancements, environmental protection, and the improved connectivity for research stations in remote areas.
Caring for our wildlife: design products, devices or services that can help protect biodiversity and the natural habitat of wildlife in the Arctic. If you choose this challenge, you'll be encouraged to focus on protecting marine biodiversity, understanding and forecasting mitigation routes, understanding and mitigating the effects of exploration and development on wildlife, and the impact of climate change on natural habitats.
If you are an aspiring hacker with a passion for developing sustainable solutions, register today. Remember, no previous space experience is required. This is your chance to engage with the sector, even if it's for the first time. The application process couldn't be easier: Simply choose a challenge and decide how you'll leverage EU space technologies to connect the Arctic.
Register here: hackathons.cassini.eu
Hackers are not the only ones who can take advantage of the CASSINI Hackathons & Mentoring. If you'd like to participate as an organiser or mentor, we'd love to hear from you. All interested individuals, organisations, companies and institutions are invited to apply to support the next generation of space-based entrepreneurs. Information on how to get involved can be found here for mentors and organisers.
Now is your chance to become part of this exciting European initiative to promote EU Space technology and its many applications. Hack with a purpose and leverage EU space data, services and signals to access, understand and protect the Arctic! More information: hackathons.cassini.eu