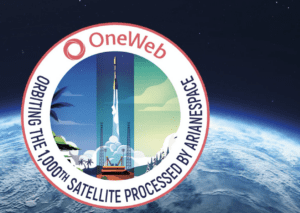 Luxembourg, 16 September 2021. – Arianespace has launched more than 1000 satellites since its foundation with Flight ST35 on Soyuz for OneWeb, the company said
The launch for OneWeb placed another 34 OneWeb satellites into orbit; Arianespace has now deployed a total of 322 satellites for the global connectivity constellation, it said.
With this launch, Arianespace will have deployed 1,021 satellite since its incorporation in 1980.
Soyuz Flight ST35 lifted-off with 34 OneWeb satellites onboard, bringing the size of the fleet in orbit to 322. Flight ST35 was the 60th Soyuz mission carried out by Arianespace and its Starsem affiliate, and the tenth mission to the benefit of OneWeb, Arianespace said.
Arianespace will perform nine more Soyuz launches for OneWeb through 2021 and 2022. These launches will enable OneWeb to complete the deployment of its global constellation of 650 satellites in low Earth orbit (LEO) by year-end 2022.