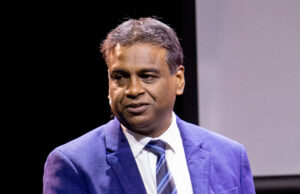 SpaceWatch.Global is pleased to present the 33rd episode in our podcast series The Space Cafe Podcast: Val Munsami – why affordable space tech for anyone comes at a price
Episode 033 features a special guest Dr. Valanathan Munsami. 
Valanathan Munsami is the CEO of the South African Space Agency SANSA with whom he is currently experiencing the renaissance of space travel first hand. The increasingly affordable space technologies such as small or cube satellites are not only tempting South Africa with unprecedented opportunities. But they also come with a price. And that price is high.
The Space Cafe Podcast brings our signature brand of engaging and relevant content from across the global space economy to you via an exciting new format. Together with award-winning Executive Producer, Markus Mooslechner (Terra Mater Factual Studios), our fortnightly podcast features highly interesting guests.
Each episode includes a review of important topics, as well as guest appearances and deep commentary from expert panellists from across the space sector.
Thanks to our global distribution partner, BookWire, the podcast is available on all major podcast platforms.










Tune in here