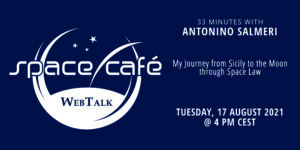 This Space Café WebTalk will feature Antonino Salmeri, Doctoral Researcher in Space Law at the University of Luxembourg, in conversation with Torsten Kriening, publisher of SpaceWatch.Global.
"My Journey from Sicily to the Moon through Space Law"
Antonino Salmeri is an Italian attorney at law and a PhD candidate (under the supervision of Professor Mahulena Hofmann) working on the legal and policy aspects of space resource activities and lunar governance. Within the space community, Antonino is the lead of the space exploration project group and the EAGLE team at SGAC, governing member at ISU, co-chair of the sub-group on information sharing at GEGSLA, co-chair of the Registration Project at MVA, and outreach manager of the knowledge constellation at IISL.
In this WebTalk, Antonino will share his journey through the space sector and explain his space law and policy work for space resource activities and lunar governance.
The audience will have an opportunity to ask questions in dialogue with Antonino Salmeri.
SpaceWatch.Global is a Switzerland-based digital magazine and portal for those interested in space and the far-reaching impact of the space sector.
This Space Café WebTalk will be conducted in English on 17 August 2021 at 4 pm CEST.
Reserve your place today.