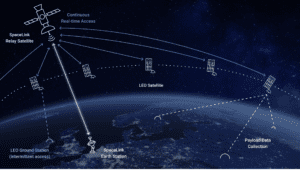 Edinburgh, 4 August 2021. – The Center for the Advancement of Science in Space (CASIS) selected SpaceLink for a demonstration of its 10 Gbps optical end-to-end relay service, SpaceLink said.
CASIS is the manager of the International Space Station (ISS)´s in-orbit U.S. National Laboratory.
The demo will allow the use of a 10 Gbps optical terminal which enables secure, continuous, real-time voice, video, and data exchange between the laboratory and Earth.
Its relay network goes beyond NASA's Tracking and Data Relay Satellite System (TDRSS) and ensures high capacity using the latest technology in optical communications, SpaceLink says.
SpaceLink plans a constellation of satellites in Medium Earth Orbit (MEO) to connect to  Low Earth Orbit (LEO) satellites. Its system provides global coverage and bandwidth for commercial space stations, Earth observation companies, launch vehicles, space tugs and satellite servicers, it says.
SpaceLink is based in Washington DC and is a wholly owned U.S. subsidiary of the Australian stock exchange listed Electro Optic Systems Holdings Limited.