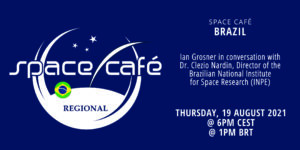 This Space Café Brazil will feature Dr. Clezio Nardin, director of the Brazilian National Institute for Space Research (INPE), in conversation with Ian Grosner, Correspondent of SpaceWatch.Global for Brazil.
60 Years of the Brazilian National Institute for Space Research (INPE).
Dr. Clezio Marcos De Nardin obtained the degree of electrical engineer in 1996 from the Federal University of Santa Maria (UFSM) and Ph.D. in Space Geophysics in 2003 by the National Institute for Space Research (INPE), where he advises doctoral, masters and scientific initiation projects. He published 85 articles in international indexed journals, 42 papers in conference proceedings, and presented 259 papers in scientific meetings, as well as 1 academic article and 13 lectures on scientific outreach. He has obtained 16 scientific awards as an author and work supervisor and is a reviewer and editor of international scientific journals. In the international scientific community, he was president of the Brazilian Society of Space Geophysics and Aeronomy (SBGEA) between 2013 and 2016, and the deputy director of the International Space Environment Service (ISES, an international space organization) between 2016 and 2019.
He currently is the vice president of the Latin American Association of Space Geophysics (ALAGE), the Brazilian representative at the WMO Inter-Programme Team on Space Weather Information, Systems and Services (IPT-SWeISS), and he is a member of the Space Weather Expert Group of the UN Committee on the Peaceful Uses of Outer Space. At INPE, he was General Manager of the Embrace Program (the Brazilian Studies and Monitoring of Space Weather) between 2012 and 2018, General Coordinator for Space and Atmospheric Sciences between 2018 and 2020, General Coordinator for Infrastructure and Applied Research, throughout 2020 and he is currently the INPE's Director. In addition, he serves as the representative of the Ministry of Science, Technology, and Innovations, in the Legal Amazon Protection Commission, linked to the Vice-Presidency of the Federative Republic of Brazil.
This episode will address the 60 years of the INPE and the beginning of space activities in Brazil.
The audience will have an opportunity to ask questions in dialogue with Dr. Clezio Nardin.
SpaceWatch.Global is a Switzerland-based digital magazine and portal for those interested in space and the far-reaching impact of the space sector.
This Space Café Brazil will be conducted in Portuguese on 19 August 2021 at 6 pm CEST.
Reserve your place today.