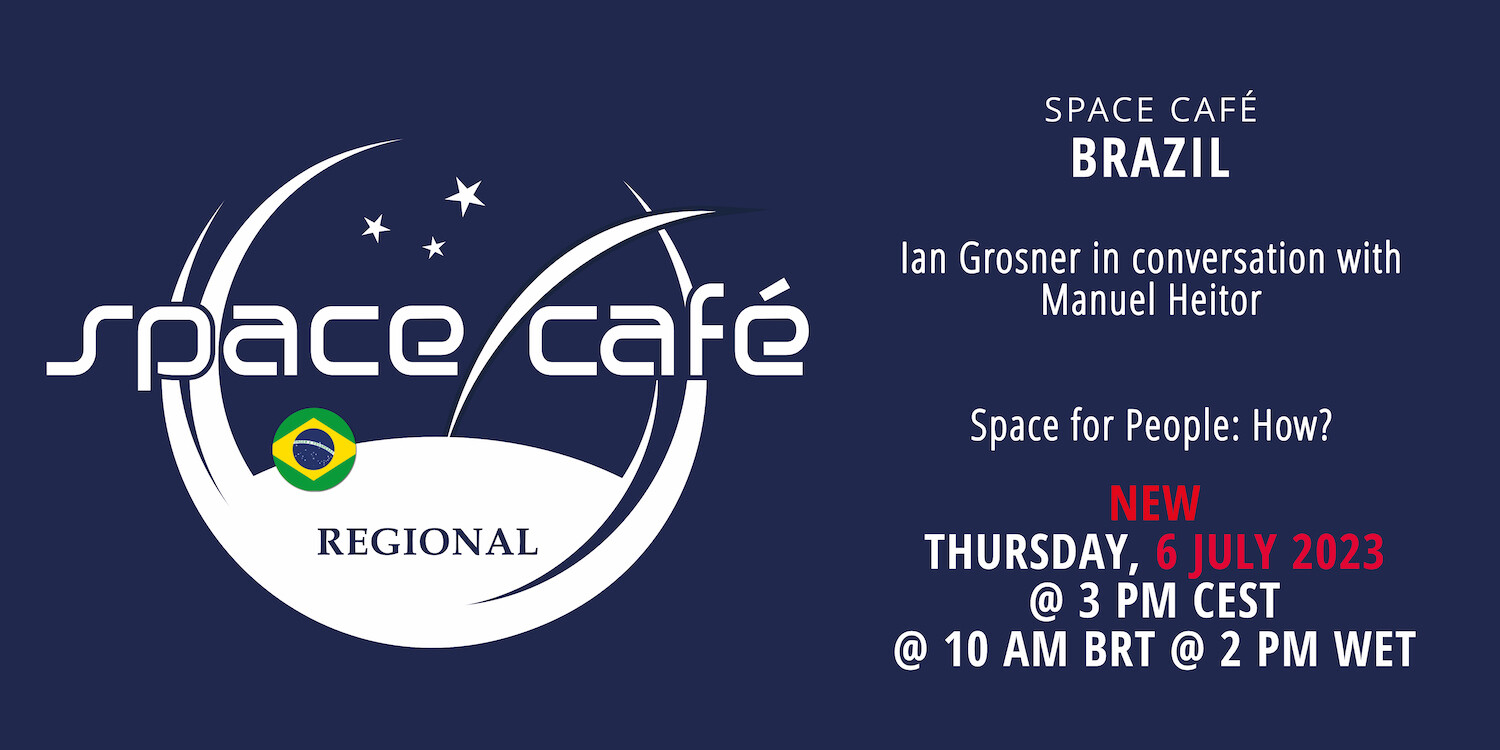 This Space Café Brazil will feature Manuel Heitor , professor at Instituto Superior Técnico (IST), the engineering school of the University of Lisbon, in conversation with Ian Grosner, Correspondent of SpaceWatch.Global for Brazil.
Space for People: How?
The next Space Café Brazil will take place on Thursday, July 6 at 10 am (BRT) / 2 pm (WET) / 3 pm (CEST). – NEW DATE!
Manuel Heitor is a professor at Instituto Superior Técnico (IST) the engineering school at the University of Lisbon. He served as Minister for Science, Technology and Higher Education for the Government of Portugal in the period November 2015-March 2022 and as the Secretary of State for Science, Technology and Higher Education from March 2005 to June 2011. Overall, he served more than 12 years in the Government of Portugal and, among many other initiatives, he promoted the program Go-Portugal – Global Science and Technology Partnerships Portugal and the Atlantic International Research Centre – AIR centre. He helped to develop the Portuguese and European Space strategies, as well enforce research and innovation policies, including Advanced Computing for Europe.
He founded in 1998 the IST´s Center for Innovation, Technology and Policy Research, IN+, which was named as one of the Top 50 Global Centers of Research on Management of Technology by the International Association for the Management of Technology (IAMOT) in 2005. He coordinated the IST´s doctoral programs in engineering and public policy (EPP) and engineering design and advanced manufacturing." In 2011-12, he was a visiting scholar at Harvard University. In 2022 he received the Honorary Doctor in Science and Technology from Carnegie Mellon University and was nominated "IST distinguished Professor." He is a Honorary Member of the European Academy of Cancer Sciences, EACS, and a Corresponding Member of the Royal Academy of Engineering, Spain.
Manuel Heitor has published over 130 scientific articles and supervised over 40 post-grad students. He is co-author of, among others, New Ideas for the University (in Portuguese, IST Press, 1998) and Innovation for All? (Praeger, 2005). He was co-editor of the book series on Technology Policy and Innovation, launched by Greenwood Publishing Group and continued by Purdue University Press.
In this episode, Portugal meets Brazil. The conversation will include how space can help people. The guest will also talk about an international career in the space sector, projects in Portugal, and much more.
The audience will have an opportunity to ask questions in dialogue with Manuel Heitor.
SpaceWatch.Global is a Europe-based digital magazine and portal for those interested in space and the far-reaching impact of the space sector.
This Space Café Brazil will be conducted in Portuguese.
Reserve your spot now!