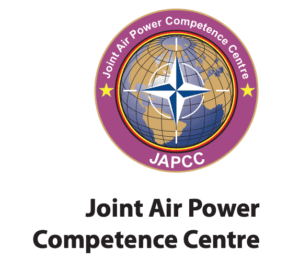 As part of the partnership between SpaceWatch.Global and Joint Air Power Competence Centre, we have been granted permission to publish selected articles and texts. We are pleased to present "Chinese 'High-Risk' Corporate Space Actors", originally published on the Joint Air Power Competence website.
By Dr Jana Robinson, Prague Security Studies Institute

Introduction
A significant, and continuously increasing, number of Chinese enterprises are being sanctioned or officially designated as, in effect, 'bad actors' by the United States and Japan through such venues as the US Department of Defense Section 1237 List of 'Communist Chinese Military Companies' (CCMCs), the US Department of Commerce 'Entity List', the Treasury Department's Office of Foreign Assets Control (OFAC) sanctions list and the Japanese Ministry of Economy, Trade and Industry's 'End User List'.
The first tranche of companies on the Pentagon's list of CCMCs was released on 25 June 2020. The list, originally commissioned by Congress in 1999 pursuant to Section 239 of the National Defense Authorization Act, includes companies with extensive ties to the Chinese Communist Party (CCP) and the People's Liberation Army (PLA). They include companies involved, for example, in the illegal building and militarization of manmade islands in the South China Sea, advanced weapons manufacturing and proliferation concerns, human rights abuses, cyberattacks, mass surveillance, etc.
On 14 January 2021, the Department of Defense added nine new CCMCs (fourth such tranche of companies), now totalling 44 companies.1 Of those, 18 have been identified as Space-related (i.e., involved in manufacturing, distribution and sale of Space infrastructure, or Space-related equipment, products, and services).
This article provides a list of these Space-related CCMCs, a map of their global corporate footprints and offers risk profiles for four of these State-Owned Enterprises (SOEs) as case studies. It then describes the implications for the Space domain of China's deployment of the SOEs as power projection vehicles to advance Beijing's national strategy (often described as Military-Civil Fusion), including its military Space objectives. Finally, the research findings seek to help illuminate the largely overlooked subject of Economic and Financial (E&F) dimensions of Space security as practiced, and successfully leveraged, by China. Given the limited scope of the article, it could not treat the networks of publicly traded and other subsidiaries of these companies (a number of which are also under US sanctions). For example, the 18 Space-related companies referenced have over 2,000 subsidiaries, many of which warrant close, security-minded scrutiny.2
Global Footprints of Chinese Space Companies on the Pentagon CCMC List
The Chinese SOEs are vehicles of a new brand of soft power projection. Their activities often combine both commercial and strategic interests. Unlike their Western counterparts, Chinese companies often operate using non-market terms and conditions (e. g., subsidized financing, etc.) Moreover, many decisions pertaining to overseas investments are subject to direction and approval by the Chinese government.
As mentioned above, out of the 44 companies on the Pentagon's so-called Section 1237 List of CCMCs, at least 18 operate in the Space sector (see Table 1). As of February 2021, the Prague Security Studies Institute (PSSI) has identified 260 transactions in 87 countries by the 18 Space-related companies on the Pentagon's CCMC List. Out of those, 21 were identified as Space-related business transactions in Asia, Australia, Europe, the Middle East and South America.3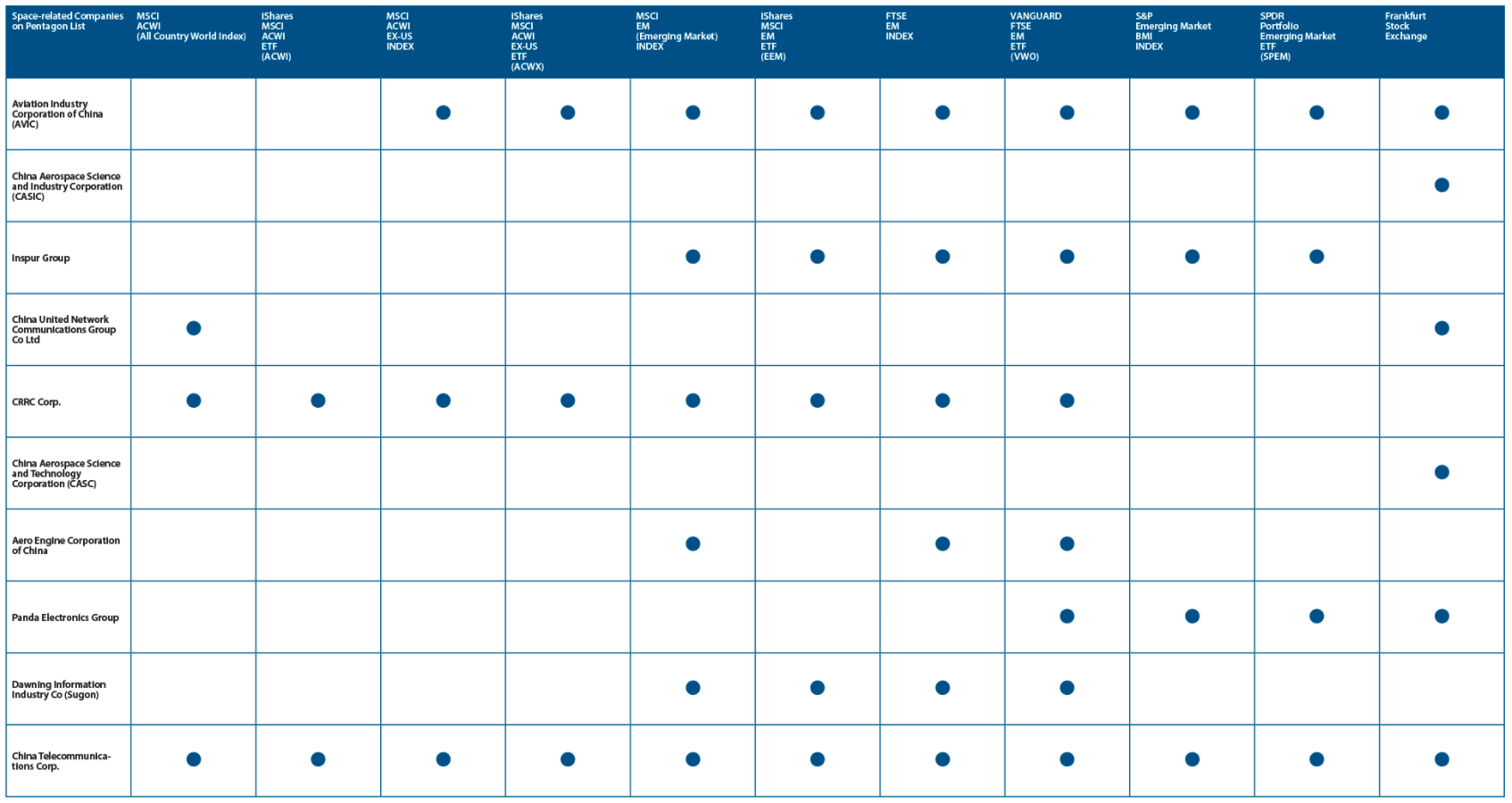 Sample Risk Profiles
The risk profiles of four of the SOEs appear below (i.e., the Aviation Industry Corporation of China, the China Aerospace Science and Technology Corporation, the China Aerospace and Industry Group Corporation, and the China Electronics Technology Group Corporation). This exercise is designed to demonstrate that such companies are 'high-risk' from a security perspective and their presence often indicates a desire by Beijing to advance its industrial plans and influence, or even outright capture, the Space sectors of their international Space 'partners'.
AVIC, CASIC and CASC are also funded on US and European capital markets. Concerning this latter point, below is a partial list (see Table 2) of the indexes and Exchange-Traded Funds that hold these and other Space-related CCMCs as well as their presence on the Frankfurt Stock Exchange (FSE).
AVIC
The Aviation Industry Corporation of China (AVIC), established in April 1951, develops and produces military equipment for the PLA's Air Force (PLAAD), PLA Naval Air Force (PLANAF), and PLA Rocket Force (PLARF) and is also active internationally through the acquisition of foreign companies, and production/sale of aerospace equipment, etc. AVIC and its subsidiaries have been sanctioned on five separate occasions by the US for activities that played a key role in developing Iran's missile capabilities and other proliferation activities (e. g., Sudan,4 etc.) AVIC and its subsidiaries5 have designed and manufactured weapons systems capable of attacking surface combat vessels in the South China Sea.
There have been concerns about supply chain risks related to AVIC's European acquisitions. In July 2013, for example, AVIC acquired Germany's Thielert Aircraft Engine, scuttling its active involvement in European defense industry.6 AVIC is publicly traded in the US and European capital markets and 26 of its subsidiaries are listed in Hong Kong, Shenzhen, and Shanghai.
CASIC and CASC
The China Aerospace and Industry Group Corporation (CASIC), together with the China Aerospace Science and Technology Corporation (CASC), are the two key drivers of China's Space industry. They are both wholly owned by the Chinese government and, as such, fall under the supervision of the State-Owned Assets Supervision and Administration Commission (SASAC) of the State Council and the State Administration of Science, Technology and Industry for National Defense (SASTIND).7 SASAC enables the government and the CCP to intervene in the business, management, and investments of these enterprises.
CASIC and CASC direct the operations of their many respective subsidiaries.8 For example, CASC's subsidiary, China Great Wall Industry Corporation (CGWIC), is one of its trading arms and stated to be the only commercial entity that is authorized by the Chinese government to provide 'commercial satellite launch services and Space technology to international clients'.9 It was also identified in PSSI's research as China's most active Space entity globally in both the number and value of transactions (notably in developing countries such as Laos, Venezuela, etc.).10
CASIC, founded in 1956, is the primary contractor of the Chinese Space program.11 It is the domestic leader in missile equipment development, Space launch vehicles and other Space systems (including anti-satellites capabilities such as high-power lasers.)12 In April 2016, CASIC was identified by the Subcommittee on Terrorism, Nonproliferation, and Trade in the US House of Representatives as supporting Pakistan's ballistic missile program.
CASC was established in 1999 and, among many other activities, has carried out Chinese efforts to gain a foothold for its companies in Europe through the establishment of special industrial and/or free trade zones. A prominent example is the 'Great Stone Industrial Park' complex outside Minsk, Belarus, where CASC agreed to become the 'anchor company' in March 2018.13
CETC
The China Electronics Technology Group Corporation (CETC) is China's leading military electronics manufacturer founded in 2002 by the merger of numerous research institutes managed by the Ministry of Information Industry. It is China's flagship company for design, production, integration, and implementation of command and control systems for the international market and it operates in over 100 countries, including a European headquarters in Graz, Austria. The company collaborates with the Technical University Graz and the University of Technology Sydney, Australia. CETC, together with CASIC and other entities, was behind China Galileo Industries Ltd, formed in 2004 to develop the civilian use of the EU's global navigation satellite system,14 and subsequently developing a competing system, BeiDou, declared fully operational in the summer of 2020.
The company has been implicated by the US Department of Justice in at least three cases of illegal exports of technology and several of its research institutes and subsidiaries are on the US Department of Commerce's Entity List and the Japanese 'End User List'.15 CETC's surveillance technology is being used to monitor Muslim Uyghur citizens in Xinjiang, including those in mass detention camps.
Implications for Allies
China's growing Space presence globally is often driven by objectives of the CCP and the PLA. State-owned enterprises, in effect, weaponized by the Chinese government, have, to date, forged Space partnership arrangements with some 60 countries globally. Low-cost launch services and heavily subsidized Space infrastructure development and financing are taking market share from European and US Space companies at quite an alarming rate, not to mention bringing China greater influence in multilateral Space fora.
There has been little, if any, coordinated allied response to this E&F behaviour through NATO or elsewhere. Compounding this problem is the ironic fact that scores of millions of unwitting European and American retail investors are funding these Chinese corporate 'bad actors' through the purchase of their stocks and bonds (for those which are publicly traded).
Conclusion
NATO should be more alert to this ground-based Space race being prosecuted by China through its state-controlled enterprises on a largely uncontested basis. They are successfully creating for Beijing politically exploitable Space dependencies, expanding its influence to shape global Space standards and norms and advancing its vast military Space program.
To date, US-sanctioned Chinese Space-related companies have never faced allied penalties of any kind, even in the category of unfair trade practices. Executive Order 13959,16 issued by the previous US Administration in November of last year, made these 18 Space companies and others on the Pentagon's CCMC List legally off-limits to all US investors globally, as they are prohibited from holding the securities (i.e., stocks and bonds) of these companies effective 11 November 2021. NATO would benefit from better understanding the serious knock-on effects of this first-time use of capital markets sanctions by the US.
NATO also needs to help maintain a level commercial and financial playing field in the Space domain, where economic and financial leveraging techniques are routinely employed by Beijing, in order to prevent the capture of the fledgling Space sectors of smaller nations.
Endnotes
1. 'DOD Releases List of Additional Companies, In Accordance with Section 1237 of FY99 NDAA'. In Defense.gov [online], 2021 [cited 17 Feb. 2021). Available at: https://www.defense.gov/Newsroom/Releases/Release/Article/2472464/dod-releaseslist-of-additional-companies-in-accordance-with-section-1237-of-fy/.
2. Data based on 'IntelTrak Data'. In RWR Advisory Group [online]. 2021 [cited 3 Mar. 2021). Available at: (subscription only): https://www.rwradvisory.com/inteltrak/.
3. As referenced above, these data points do not include the over 2,000 subsidiaries of these 18 companies. For any comprehensive analysis, these subsidiaries would have to be thoroughly researched.
4. 'GLOBAL TRADE, LOCAL IMPACT Arms Transfers to all Sides in the Civil War in Sudan'. In Human Rights Watch [online], 1998 [cited 18 Feb. 2021). Available at: https://www.hrw.org/legacy/reports98/sudan/Sudarm988-05.htm#P577_102736.
5. AVIC has over 100 subsidiaries.
6. 'AVIC acquires Thielert Aircraft Engines'. In Pilotweb.aero [online], 2013 [cited 18 Feb. 2021). Available at: https://www.pilotweb.aero/news/avic-acquires-thielert-aircraft-engines-1-2295681.
7. Mu R., Fan Y., 'An Overview of Chinese Space Policy'. In Schrogl KU., Hays P., Robinson J., Moura D., Giannopapa C., 'Handbook of Space Security' (2015). Springer, New York, NY: p. 413–430.
8. Capital Trade Incorporated, 'An Assessment of China's Subsidies to Strategic and Heavyweight Industries'. In US-China Economic and Security Review Commission [online], 2009 [cited 18 Feb. 2021). Available from: https://www.uscc.gov/research/assessment-chinas-subsidies-strategic-and-heavyweight-industries.
9. 'China Great Wall Industry Corporation (CGWIC)'. In Nti.org. (n.d.) [online], 2001 [cited 18 Feb. 2021). Available at: https://www.nti.org/learn/facilities/50/.
10. Robinson, J., Robinson, R., Davenport, A., Kupkova, T., Martinek, P., Emmerling, E., and Marzorati, A., 'State Actor Strategies in Attracting Space Sector Partnerships: Chinese and Russian Economic and Financial Footprints'. In Prague Security Studies Institute [online], 2019 [cited 17 Feb. 2021). Available at: http://www.pssi.cz/download/docs/8177_686-executive-summary.pdf.
11. 'About CASC'. In China Aerospace Science and Technology Corporation [online], 2018 [cited 18 Feb. 2021). Available at: http://english.spacechina.com/n16421/n17138/n17229/index.html.
12. https://www.uscc.gov/sites/default/files/Research/USCC_China-Space-Program-Report_April-2012.pdf.
13. 'China Aerospace Science and Technology Corporation to open research center in Belarus'. In Belta.by [online], 2018 [cited 18 Feb. 2021). Available at: https://eng.belta.by/society/view/china-aerospace-science-and-technology-corporation-toopen-research-center-in-belarus-113476-2018/.
14. Mulvenon, J, and Tyroler-Cooper, R. S., 'China's Defense Industry on the Path of Reform' In US-China Economic and Security Review Commission [online]. 2009 [cited 18 Feb. 2021). p. 46. Available at: https://www.uscc.gov/sites/default/files/Research/ REPORT_DGI%20Report%20on%20PRC%20Defense%20Industry111009.pdf.
15. 'China Electronics Technology Group Corporation' In China Defence University Tracker [online]. 2020 [cited 18 Feb. 2021). Available at: https://unitracker.aspi.org.au/universities/china-electronics-technology-group-corporation/.
16. 'Executive Order 13959: Addressing the Threat From Securities Investments That Finance Communist Chinese Military Companies'. In FederalRegister.org [online]. 2020 [cited 1 Mar. 2021). Available at: https://www.federalregister.gov/documents/2020/11/17/2020-25459/addressing-the-threat-from-securities-investments-that-finance-communist-chinese-military-companies.
17. RWR Advisory Group (2020). 'The US Capital Markets Footprints of the Pentagon's "First Tranche" List of PLA-Affiliated Chinese Enterprises Operating in the United States'. In RWR Advisory Group [online]. 2020 [cited 3 Mar. 2021), p. 1-19. Available at: https://www.rwradvisory.com/wp-content/uploads/2020/07/RWR_Pentagon_List_Report.pdf.
18. 'Börse Frankfurt–Equities'. In boerse-frankfurt.de [online]. 2021 [cited 3 Mar. 2021). Available at: https://www.boerse-frankfurt.de.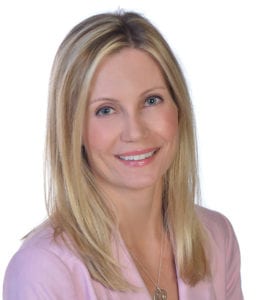 Dr Jana Robinson is Managing Director at the Prague Security Studies Institute (PSSI). She also serves as Director of PSSI's Space Security Program. Prior to this post, she held the position of a Space Policy Officer at the European External Action Service (EEAS) in Brussels. From 2009 to 2013, she led the Space Security Research Program at the European Space Policy Institute, seconded from the European Space Agency. She holds a PhD from the Charles University's Faculty of Social Sciences, Institute of Political Studies.
The original version can be fin here: https://www.japcc.org/chinese-high-risk-corporate-space-actors/