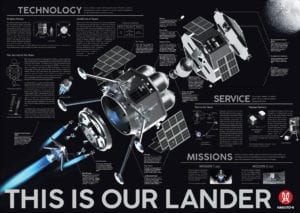 Luxembourg, 15 July 2021. – The Japanese lunar exploration company ispace has begun the assembly of the flight model for its lunar lander, which is to be used in the company's first mission scheduled to launch in 2022, the company said.
The engineers of ispace have completed the vibration, acoustics, and thermal vacuum tests at a facility near Tokyo, and the lander passed all environmental tests, ispace said.
The final assembly of the flight model lander will now be carried out in cooperation with Ariane Group at its facility in Lampoldshausen, Germany. The first major structural assembly is slated for completion by the end of July 2021, ispace said.
Following the final testing early next year, the lander flight model will be shipped from Germany to the U.S. for a launch in the second half of 2022, ispace said.