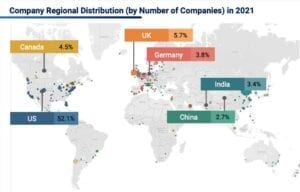 Paris, 26 May 2021. – Space booms: the number of space companies around the world exceeds 10,000, with more than half in the U.S., the magazine Forbes reported, based on a new analysis from SpaceTech Analytics.
The U.S. now has 5,582 space-focused companies, almost ten times more than the next country, the UK, which has 615, the report said. 
Competition has led the value of space companies to cross the $4 trillion mark and is a key factor in reducing launch to orbit cost by almost two orders of magnitude in the past 20 years.
The market expansion will drive the total value of the sector to $10 trillion by 2030, the report said.
It counted 5,000 investors, 150 research & development hubs, 130 governmental organizations, and 20 business sectors from navigation and mapping to space medicine, all active in space.
Navigation and mapping are the largest, with 2,820 companies, followed by Cloud Solutions at 2,406, and Manufacturing at 1,048.
The United States spends more on space than all other countries combined, the report also said. The U.S. government's space budget is almost $41 billion, $23.3 billion of which is focused on NASA. China has the next-largest budget at just under $6 billion, reportedly, followed by Russia, France, and Japan with budgets in the $3-4 billion range.
"(W)e're on the cusp of unlocking very significant value — both scientific and economic — in the ongoing development of a space-based economy", Forbes said.