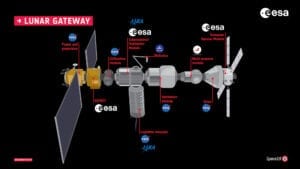 Paris, 26 May 2021. – OHB signed a subcontract with Thales Alenia Space to develop ESPRIT, the European module for the Lunar Orbital Platform Gateway. The subcontract with Thales Alenia Space as the program's prime contractor is worth EUR 58 million, OHB said.
OHB will be responsible for the unpressurized structure and the thermal system of the ESPRIT module up to flight readiness, the company based in Bremen, Germany, said.
It will also develop a system for refueling the Lunar Gateway's electric propulsion system with xenon.
ESPRIT stands for European System Providing Refueling, Infrastructure and Telecommunications and is implemented under a contract awarded by the European Space Agency (ESA). It consists of two elements: the Refueler Module, supplying the gateway with xenon, and the Halo Lunar Communication System to telecommunicate with the Moon. ESPIRT is scheduled for launch in 2027.
The gateway is a joint project of ISS international partners Europe, the United States, Japan and Canada, and is intended to serve as a base camp for missions to the lunar surface as well as to Mars and other distant destinations. It is a modular platform that can orbit the moon in different orbits, providing access to the entire surface, OHB said.