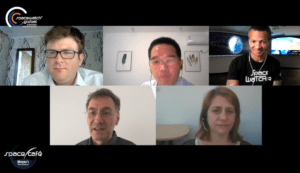 In this session of Space Cafè "Moriba's Vox Populi #04" Dr. Moriba Jah talked about security concerns in near-earth space (mostly) and ideas on how we can develop operational protocols and practices to minimize misinterpretations that could lead to undesirable escalatory behaviours with
Moriba's Vox Populi is a disruptor in the current growing ocean of webcasts!
After all, become a SpaceWatcher!
He also answered relevant questions from the audience and got the people a voice on stage.
This Space Cafè "Moriba's Vox Populi #04", held on 8 April 2021. The Space Cafè series is SpaceWatch.Global's innovative webinar platform featuring global space experts.
SpaceWatch.Global is a Switzerland-based digital magazine and portal for those interested in space and the far-reaching impact of the space sector.
Our complete session can be seen here: