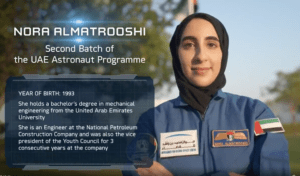 Paris, 12 April 2021. – The United Arab Emirates (UAE) named its first female astronaut, Sheikh Mohammed bin Rashid Al Maktoum, Vice President and Prime Minister of the UAE and Ruler of Dubai, said.
"Today we announce two new Emirati astronauts, among them the first female Arab astronaut. We congratulate them and count on them to raise the name of the UAE ever higher in space."
Nora AlMatrooshi and Mohammed AlMulla will join astronauts Hazzaa AlMansoori and Sultan AlNeyadi to form a team of four under the UAE Astronaut Programme, the government said.
The two astronauts were selected from more than 4,300 applicants after comprehensive evaluations.
The UAE Astronaut Programme embodies the vision of the country's leadership by empowering young people to design the next 50 years, leading to the UAE Centennial 2071, the government said.
The two astronauts from the second batch will join the "2021 NASA Astronaut Candidate Class", as part of a joint strategic agreement between the UAE and the U.S., the announcement said.